Background Image for Header:
Blog post by Linda Blake, University Librarian Emerita, WVRHC
I continue to enjoy histories related to areas where I grew up, the Appalachians, West Virginian specifically.  In this blog post I describe three novels set here.  All the books are available in the West Virginia University Libraries as well as in many West Virginia public and college libraries.
The first book, Mud and Money, delivers a multi-generational family saga set during the gas and oil well boom in Gilmer County. The second and third books, Clay's Quilt and The Stories of Breece D'J Pancake, are firmly about masculinity. The characters are males in their twenties and the novels are about their coping in Appalachia.  Strong women characters are not absent from these two books, but the stories really revolve around men.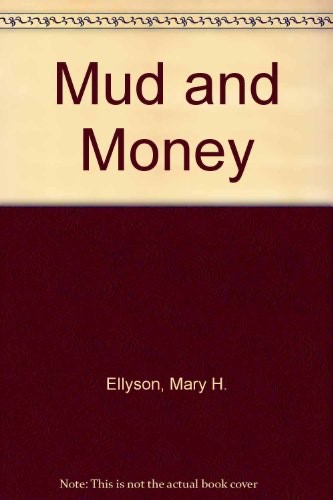 Mud and Money centers around the oil and gas boom in Gilmer County, West Virginia, before, during, and after the WWI years.  Ellyson writes about the impact of the oil and gas industry on the lives of the people.  She details descriptions of the functioning of the wells and drilling and provides an historical record of the industry's early days. This passage in the first pages of the book, gives the reader a portent of the impact of the oil and gas industry on farming communities.
Central West Virginians will particularly appreciate the descriptions of the hardships, family life, struggles, and culture of early 20th century farm life as well as the vivid descriptions of the beauty and peace in the mountains.  Through the story of the Mills family and others in the small community of Tanner, the novel personalizes the impact of industrial development. 
While many characters are stereotypical in Mud and Money, such as the self-sacrificing mother, the wise old granny, the plodding father, the characters are also likable, despicable, and human.  The reader will find herself cheering them on, except for the despicable fellow.  The plot lines will keep you reading as you follow the struggles of the Mills family and their neighbors through generations. 
The early oil and gas industry in West Virginia is well documented in the WVRHC through books and archival collections.  To search the archives as well as for books, photographs, and printed ephemera, visit the WVRHC web page.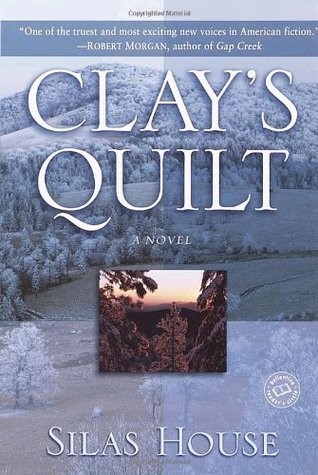 Clay's Quilt, the first of three companion novels by Silas House, are all set in rural Kentucky and include some of the same characters.  The other two books are A Parchment of Leaves and The Coal Tattoo. 
Clay is Clay Sizemore, a coal miner.  The book demonstrates the quilt of his life made up of the squares of his relationships with family and friends. At the root of the story is the impact of his mother being killed when he was four years old and how that tragedy reverberates through time. Other central characters in the book include Aunt Easter who raised Clay; the wild Evangeline, his friend since childhood; Alma, the troubled fiddle player; and Cake, another long-time friend. All of these contribute to the uniquely Appalachian story of growing up in coal country. 
One of Silas House's best talents is scene description, and although he sets a mood with his lovingly crafted descriptions of nature and the mountains,
I particularly identified with this lively church scene:
Give House's books a try for vivid descriptions of our mountains and for a good story with readily identifiable Appalachian characters.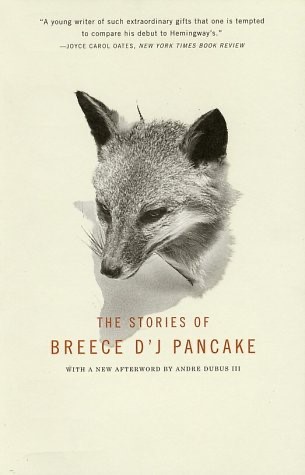 Breece D'J Pancake was just a fabulous writer. His stories are also steeped in maleness and coal country and offer an unquestionable and impactful literary style which continues to be read and studied since Pancake's death at 26 years old in 1979.  The West Virginia and Regional History Center holds the papers of Breece Pancake.
Pancake vividly uses strong metaphors and analogies to describe the West Virginia of those caught in despair.  For example, the search for trilobites in the first story symbolizes the unfruitful search through layers for answer to the Colly's problems, and Prince Albert, who is both royalty and an image on a tobacco can is trapped just the same as coal miners underground.  He excels at setting a tone with each word brilliantly chosen. Here he describes a fall morning before a fox hunt.
While "Trilobites" is the most anthologized story, another one resonated the most with me.  "The Honored Dead" is about the conflict in men who continue to be at war even after leaving service. The narrator has opted out of going to Vietnam, but the story is mostly about his friend who died there and the guilt and distress of taking his place in some ways.  This survivor's guilt affected a whole generation. In addition, there is the narrator's father who still suffers from his WWII experiences and his grandfather who fought in the Mine Wars, which to West Virginians was just as impactful as any declared national conflict.
While these stories are intellectually illuminating, they are also deeply dark.  Most jolting to me is the raw edge Pancake gives them using unseemly acts of violence such as hunting and killing animals, rape, and imagined murder.
Blog post by Christina White, undergraduate researcher at WVU
This is the tenth post in White's series on race, justice, and social change through cookbooks, featuring the following books from the Ebersole collection: Mammy Pleasant's Cookbook, A Date with a Dish, A Good Heart and a Light Hand, and The Jemima Code.
What women were expected to do, how to do it, and why they should do it is spelled out word for word in Freda de Knight's cookbook. I felt like I was studying a women's manual for proper household management, subscribing to a cooking tips blog, and learning a history lesson all at once.
A Date with a Dish is packed with "women's advice and tips." Written for women by a woman, I felt an intimacy created by mutual understanding of strictly female responsibilities at the time. Here's a few of her strong suggestions for women: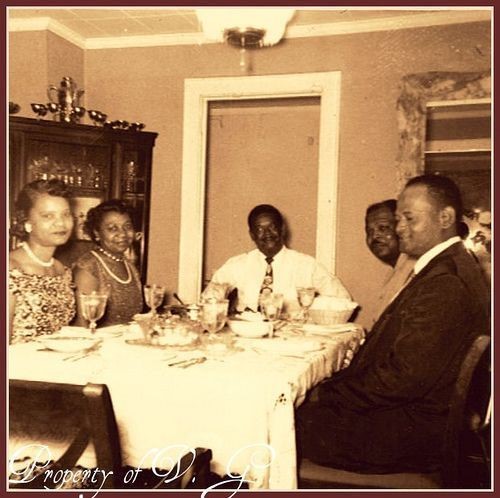 Freda's recommendations jumped out at me for different reasons. I resonated with some and went pffffft at others. I was not expecting a cookbook to instruct me on color schemes, silverware placement, calorie counting, or how to raise children.
Some of the most interesting tips from Freda: 
"If your room is dark, make your table bright; add your sunshine"
"Create a picture when you set a table… give your table personality"
"And if you want to keep your weight down along with your doctor's advice, eat regularly, wisely, and well. Eat sparingly of starches, sugars and fats."
When I read about the correct method for candle placement, I had to take a break and close the book. I thought, why does this matter? Is it getting ridiculous?
It did matter to Freda and the women who purchased the book. I realized that cookbooks share values and lifestyles. As ridiculous it sounds to a college student in 2021, Freda believed these tips would uplift and refine her readers' household.
My favorite bit of advice from Freda:
"Don't save the best for company, continually be your own guest."
Resources:
Black Southern Belle: 10 Favorite Vintage Images in the Kitchen
Blog post by Christina White, undergraduate researcher at WVU
This is the ninth post in White's series on race, justice, and social change through cookbooks, featuring the following books from the Ebersole collection: Mammy Pleasant's Cookbook, A Date with a Dish, A Good Heart and a Light Hand, and The Jemima Code.
How ridiculous and insulting! My happiness does not depend on feeding my future husband good, "manly" food!
Calm down, Christina. This was written 80 years ago…
There were some elements of Freda's book, A Date with a Dish, that disgruntled me, even though the cookbook is overwhelmingly supportive of Black women and their liberties.
Entries like this took a minute of reflection to come to terms with: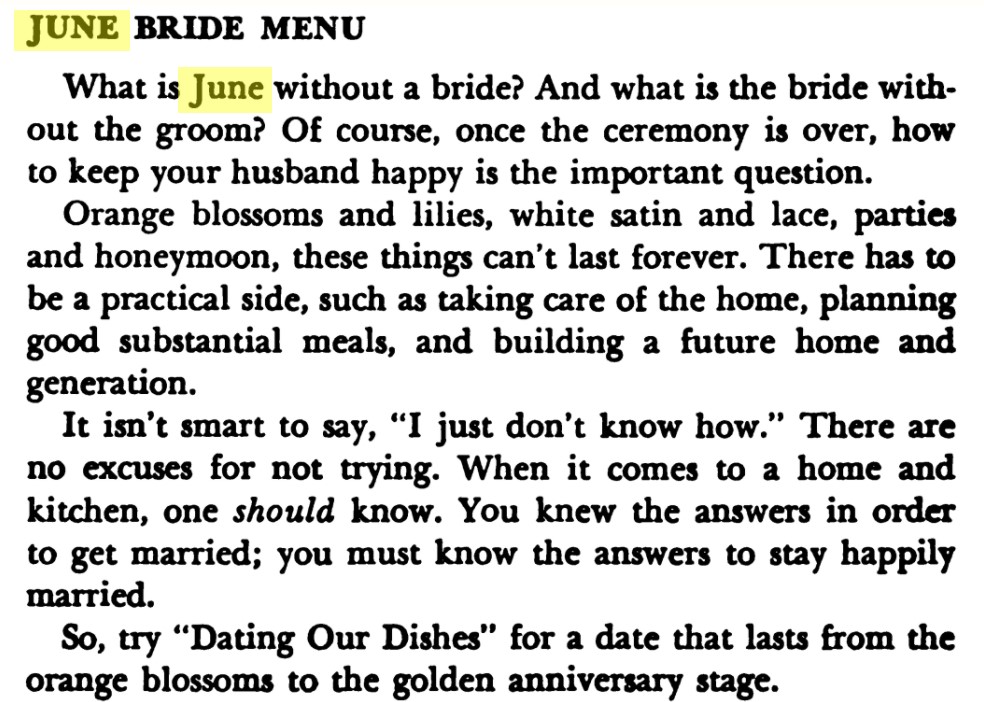 In no attempt to justify this philosophy, I engaged in a practice of empathy building after reading sections that labeled women as dependent. My college friends and I would all benefit from this sort of mental gymnastics. Yes, it's uncomfortable to read about keeping your husband happy by cooking great meals, but how did this reality shape women's status? How does it still influence parts of the world and our region of Appalachia? Answering these questions help us understand the context and roots of modern sexism.
With that in mind, there is an entire section dedicated to men's recipes: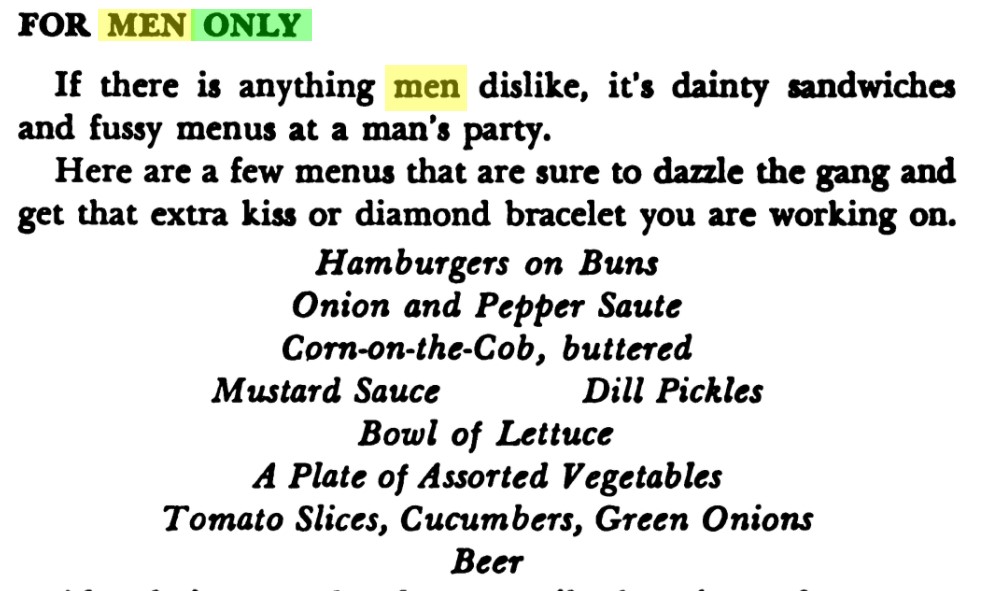 Freda playfully mentions the reward for a manly meal: a diamond bracelet or kiss. In one minute, Freda is a champion of Black representation. The next, she echoes traditional gender roles that hurt my feminist heart. Freda was a powerful female icon, the editor of Ebony magazine, and at the same time, telling readers to avoid making "dainty" sandwiches for their husbands.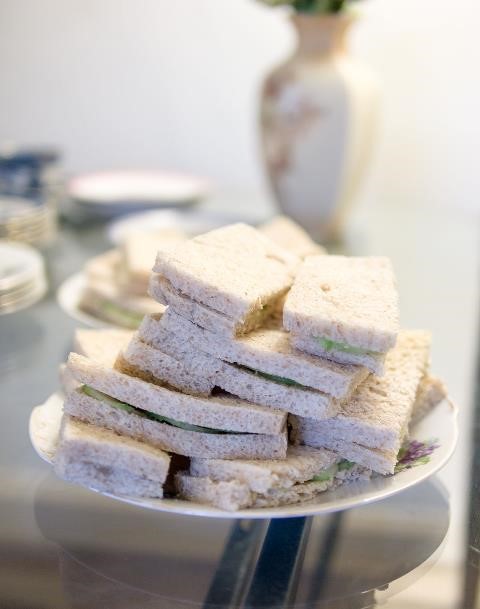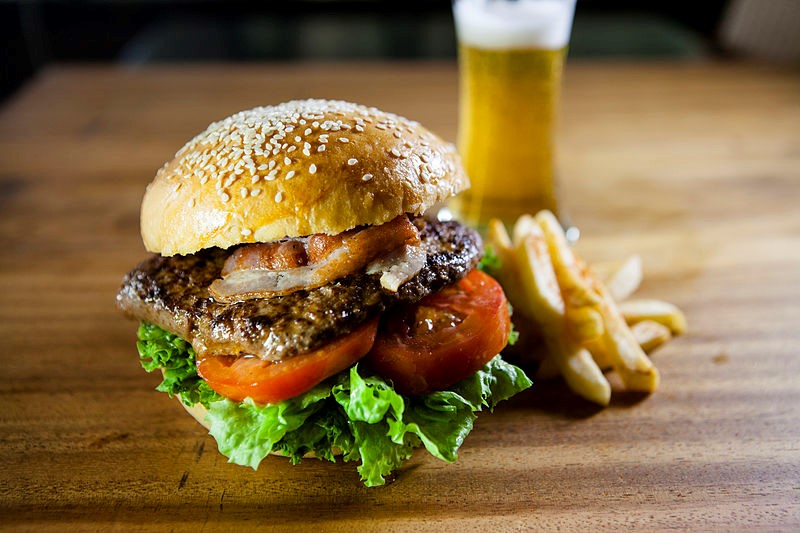 I had to remind myself that her steps forward are not erased by values I don't agree with. It's possible and important to appreciate her work and bravery in other areas, as she broke ground in terms of Black culinary representation. If you open a page of a book like this and immediately feel attacked, maybe see what else it has to offer. Absorb its message as a whole.
Resources:
Read More Blog Entries