Background Image for Header:
Blog post by Lori Hostuttler, Assistant Director, WVRHC. Photographs by Jessica Eichlin, Reference Supervisor.
October is Archives Month and the occasion has caused me to reflect on the work we do at the West Virginia & Regional History Center. I often give tours and lead classes where I have a short amount of time to relay all the moving parts that makes us a thriving archive.  In this blog post, I hope to do the same: provide a short overview of the myriad activities that comprise the important work we do.
The Center's mission is straightforward, "to preserve and provide access to materials that document the history of West Virginia and the central Appalachian region."  To accomplish this mission, Center staff are working both behind the scenes and out in front with the public.  All of the work is interconnected though. For example, the work of processing archivists directly impacts how public service staff do their jobs.  It is a simplification to classify these activities as behind and in front, but it helps to organize many tasks that are happening all at once.
Behind the scenes, our curators and administrators add to the Center's holdings by working with donors to bring in collection materials.  Sometimes that is a small collection of one or two items or a couple of boxes; other collections can consist of hundreds of linear feet of material.  Additionally, some of the content we acquire is "born digital."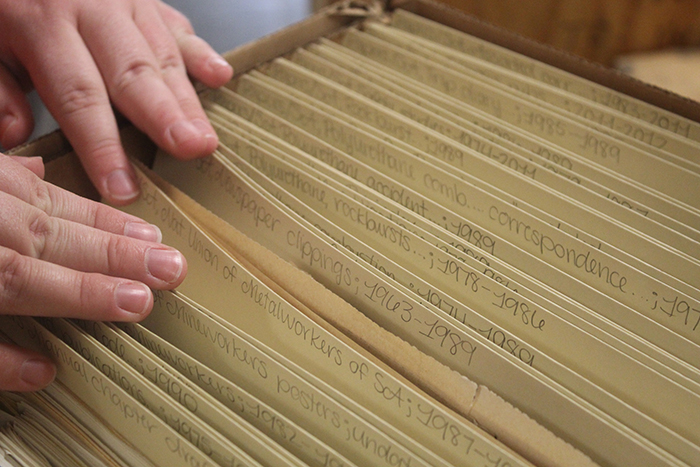 Once archival collections are here, archivists work on arranging and describing the contents of the collection.  They try to maintain the original order of materials or create order if necessary.  They make decisions about what to keep and what to let go (this also happens in the acquisitions and donor relations steps.)  Archivists then create finding aids, the descriptive texts that provide context about the collection and a list of contents to help navigate through the materials.  Preservation measures are undertaken in this process as well.  Items are placed in acid free folders and boxes and stored in areas with regulated temperature and humidity.  For digital items, there are specific preservation methods.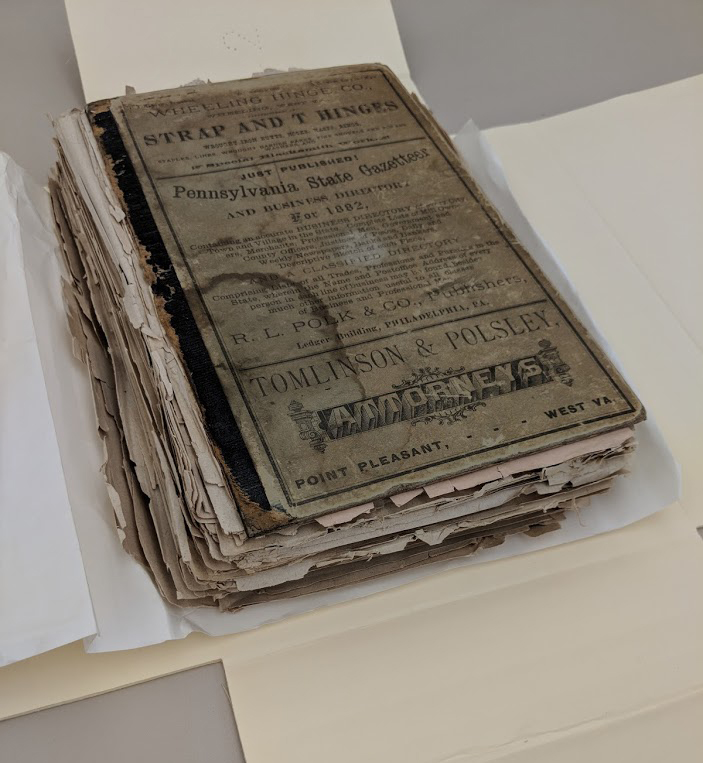 In addition to archives and manuscript collections, curators are also selecting books, periodicals, and printed ephemera to add to the collection. They work with the library cataloging department to make them discoverable in the library catalog or they create index records themselves.
Digitization is also part of the work at the History Center.  Collections can be scanned for both preservation and access.  If something is fragile, then we might digitize so that surrogate copy is available when the original can no longer be handled.  The Center has also created digital collections of scanned items for access such as the West Virginia History OnView online photographs database.  Center employees create metadata, or descriptive information, about the digital materials.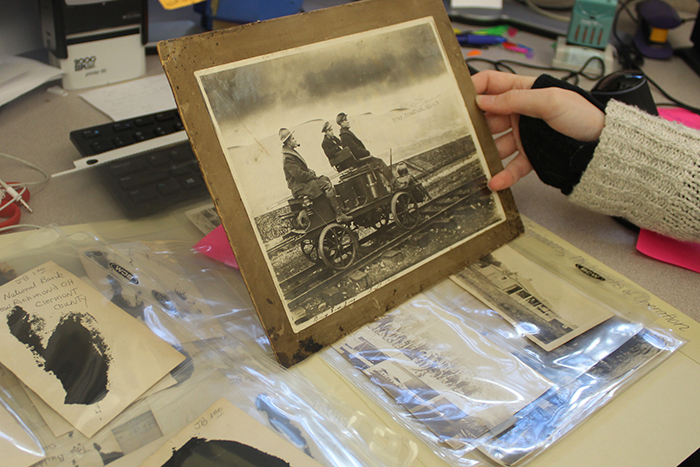 On the public side, Center staff work closely with researchers to help them find and use our collections. They help answer questions from people who come in person and those that call or email. They interact with students, local historians, genealogists, journalists, and scholars from WVU and across the globe.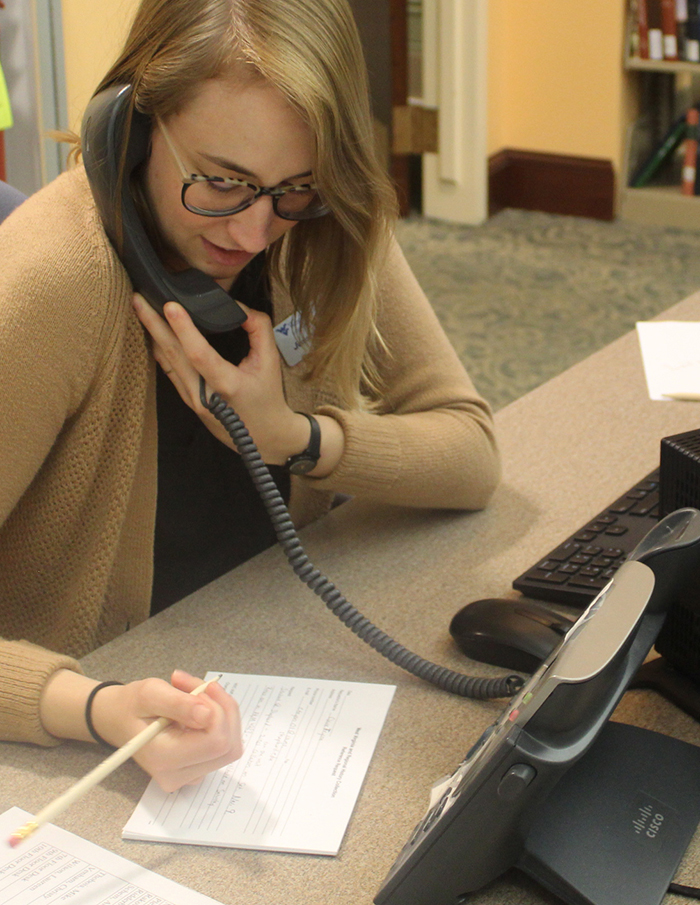 Instruction is a part of the work of the History Center.  Archivist and curators regularly teach classes featuring collections.  WVU students studying History, English, Art, Geography, Women and Gender Studies, Mathematics, Education and other disciplines visit the Center as part of their courses.  Classes from West Virginia public schools also spend time at the Center learning about archives.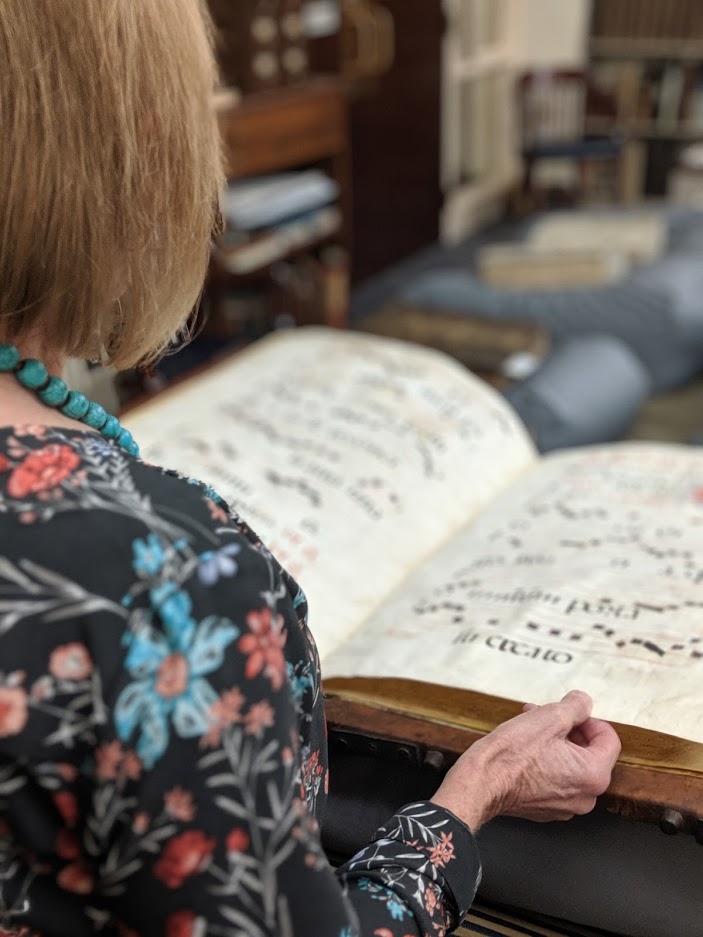 History Center staff also go out into the community to do outreach.  They give talks at history roundtables, historical societies, and other historical organizations such as the Daughters of the American Revolution.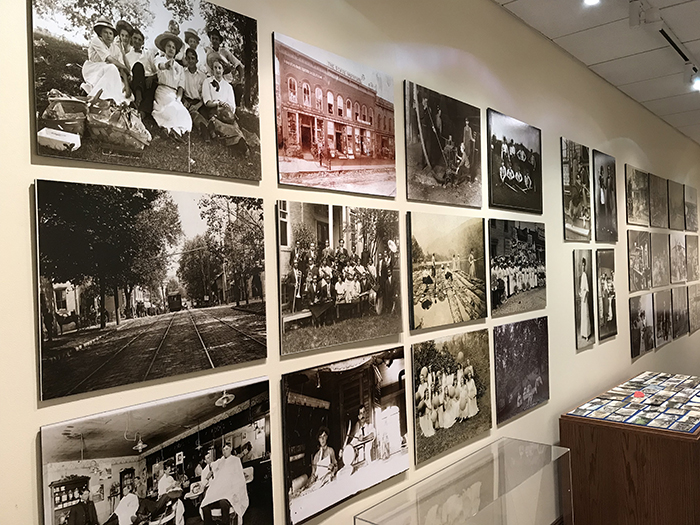 Another way the Center shares collections with the public is by creating exhibitions.  The annual West Virginia Day exhibit opens every year on June 20 and stays up until the following May.  Exhibits featuring items from our political collections can be found in the WVU Libraries Rockefeller Gallery.  Additional exhibitions on a variety of subjects including rare books take place throughout the year.
This generalized overview just scratches the surface off all the activities that take place in the archives.  It is all done by excellent staff members who are dedicated to preserving and sharing our history!  We invite you to celebrate Archives Month with a visit to the West Virginia & Regional History Center.
Blog post by Stewart Plein, Assistant Curator for WV Books & Printed Resources & Rare Book Librarian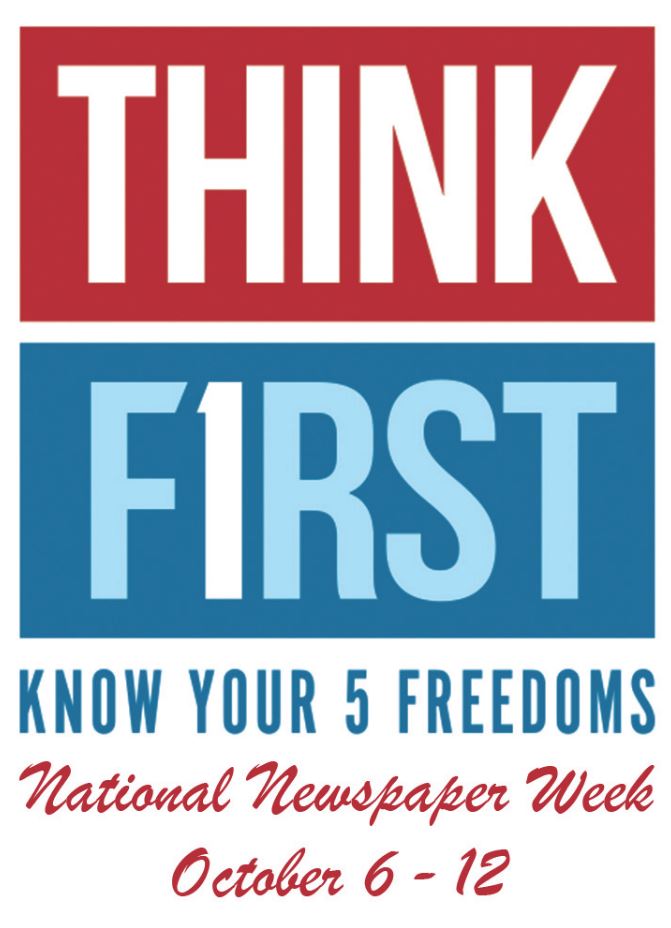 The editorial in yesterday's Dominion Post newspaper for Wednesday, October 9, 2019, discussed National Newspaper Week, which recognizes the service of newspapers and their employees across North America.  This year, National Newspaper Week is October 6-12, and it is sponsored by the Newspaper Association Managers.  The poster pictured above, is the logo for this year's celebration.
The Dominion Post took this opportunity to look back at the newspapers that preceded it, citing the origin as the Morgantown Weekly Post, which debuted on March 12, 1864.  According to the editorial, this was also the day that Gen. U.S. Grant assumed command of the United States Armies. 

Other historic newspapers appeared before the Morgantown Weekly Post.  The Monongalia Mirror was first published in Morgantown on August 11, 1849. The Mirror was a four-page weekly published on Saturday mornings.  Beginning with six columns per page, the paper later expanded to seven columns per page. The publisher, Simeon Siegfried Sr., a Baptist minister from New Britain in Bucks County, Pennsylvania, made religious and spiritual news a focus. 

After the Mirror closed, the publisher's son, Simeon Siegfried, Jr., began publishing the American Union weekly in 1855.  Siegfried, Jr. took his paper in a different direction than the one his father published.  The American Union was a newspaper reporting on American politics which promoted the attitudes of the "know-nothing" party, whose stand "opposed immigration and Catholicism and promoted Protestantism and restrictions on liquor sales, while temporarily circumventing the most significant issue of the day–contending that slavery was a local rather than federal issue."
The Morgantown Weekly Post and the Morgantown Monitor were two papers of short duration.  Both were published during the Civil War.  The editors for the Weekly Post, Henry M. Morgan and Nelson N. Hoffman, operated the paper beginning in 1864 and brought it to a close in March, 1865. 

The Morgantown Monitor fared a little better, though it too published for only a short period.  The editors were George C. Sturgiss & William P. Willey.  Willey was the son of Waitman T. Willey, the senator that ushered West Virginia into statehood.  William would go on to a long career as one of the first professors of law at the West Virginia University College of Law.  The paper later changed its name to the Semi-Weekly Monitor. 
Each of these newspapers, the American Union, the Monongalia Mirror, the Morgantown Monitor and the Semi-Weekly Monitor, are available to read and download for free at the Library of Congress newspaper site, Chronicling America.  You can find the full list of over 50 historic West Virginia newspapers digitized through a grant received by the West Virginia and Regional History Center funded by the National Endowment for the Humanities and the Library of Congress: https://chroniclingamerica.loc.gov/newspapers/west_virginia/ 
If you prefer reading newspapers the old fashioned way, stop by the West Virginia and Regional History Center to read the original issues. 
Resources:
Blog post by Alanna Natanson, 2018-2019 Preserve WV AmeriCorps member who served at the WVRHC
Universities love monetary donations to help fulfill our missions, but at the West Virginia and Regional History Center (WVRHC), the special collections library at West Virginia University (WVU), we love donations of another kind: old papers! Specifically, the materials that individuals and organizations in West Virginia and Central Appalachia create during their lifetimes. My work with the papers of Dr. Emory Kemp as part of my AmeriCorps service caught the attention of WVU alum Glenn Longacre, and it inspired him to offer research materials from his own career to the WVRHC.
My service involved processing the papers of Dr. Emory Kemp, a member of the Civil Engineering and History departments at WVU who helped to document and preserve key industrial and transportation structures throughout West Virginia and the eastern United States. If you've ever visited or used the Wheeling Suspension Bridge, West Virginia Independence Hall, and the Philippi Covered Bridge, you have Kemp's preservation work to thank.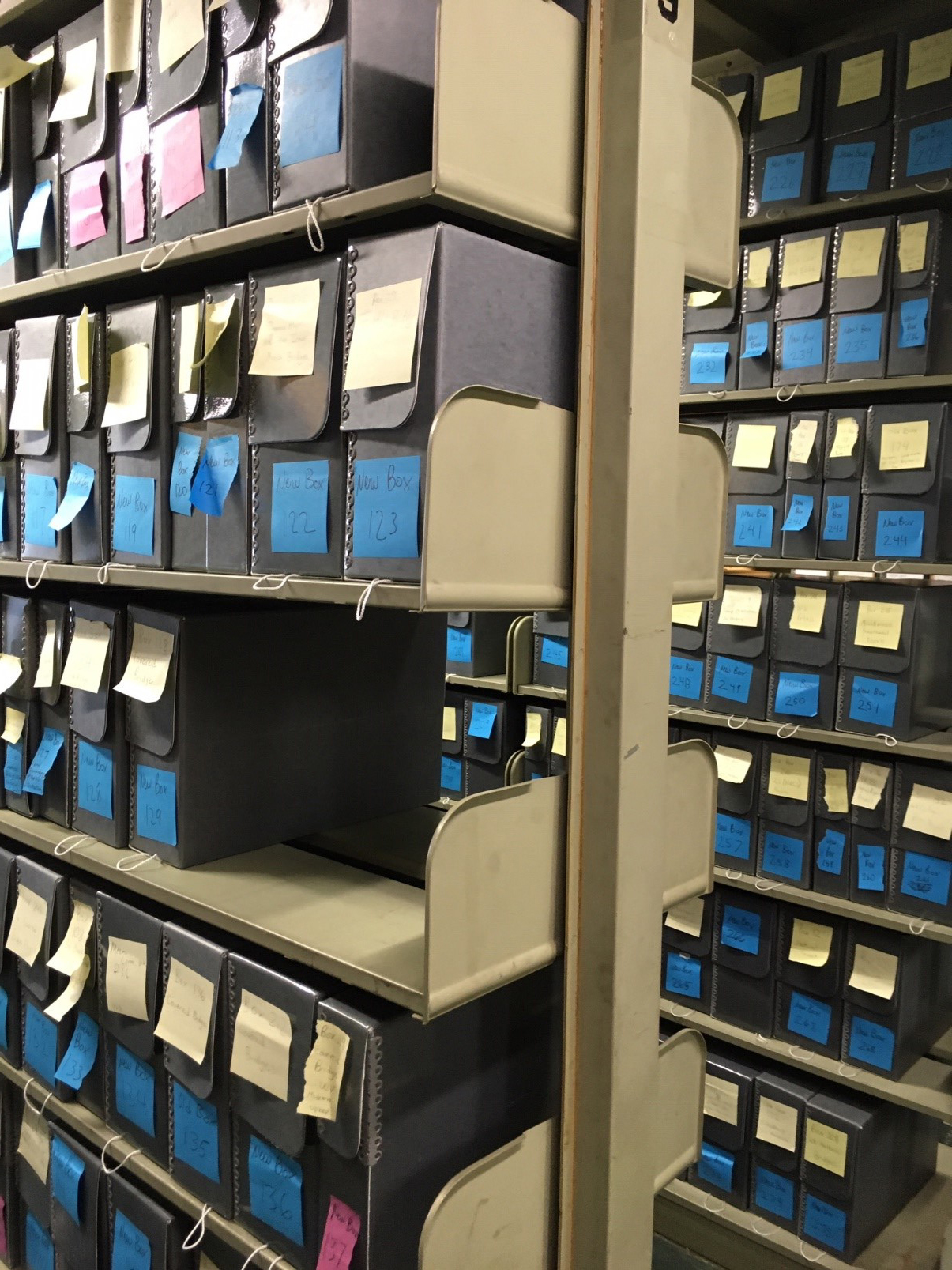 To raise awareness about the presence of the collection, we also decided to host an exhibit about Kemp. The exhibit is on display in the John D. Rockefeller IV Gallery at WVU's Wise Library through December 2019. To learn more about the exhibit or the Emory Kemp collection, please visit the WVRHC's website at https://archives.lib.wvu.edu/ or call 304-293-3536.
We sent exhibit announcements to many of Kemp's friends, family, former colleagues and students. Glenn Longacre, now an archivist at the National Archives and Records Administration branch in Chicago, Illinois, was one of these students. Under Kemp's mentorship, Longacre graduated with a degree in Public History from WVU in 1988. I was entertained to learn that Longacre had been a Project Archivist at the WVRHC himself during his school years, doing some of the same work I'm doing today.
While at WVU, Longacre delved into a study of Albrecht Brandi, a World War II-era German U-boat commander. Longacre explained to me that under Kemp's guidance, he conducted oral histories with American veterans and families of American veterans whose ships were torpedoed by Brandi's U-boats. Longacre even traveled to West Germany to interview Brandi's son and U-boat crew members who served under Brandi. Longacre still has the research notes from that period of his career in history, a period that took place in Morgantown.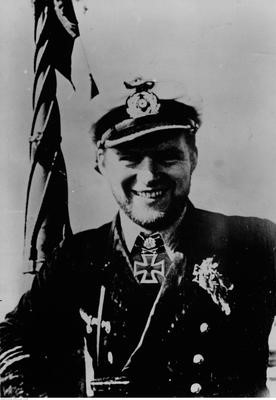 When he discovered from my announcement that I was arranging and describing a collection of Kemp's papers for the WVRHC, Longacre quickly offered to donate his Brandi papers too. He wrote to me that, "To my mind these materials should be a part of Emory's papers. Without him they wouldn't exist." Whatever the capacity under which an archival institution accepted the papers, Longacre was certain they needed to be saved. "They should be deeded to an appropriate archives before they're lost," he explained.
Michael Ridderbusch, our Associate Curator for Archives and Manuscripts and Jane LaBarbara, our Assistant Curator for Archives and Manuscripts, decided to accept the collection from Longacre since it was created by a WVU student. The Brandi papers are on their way to joining the History Center's nearly four thousand other collections–they have arrived and are in our processing queue. They may someday help a future researcher—perhaps even a WVU student—understand Brandi's effect on the world.
By sending a single email, I sparked Longacre to imagine a new home for some of his life's work in a West Virginia research repository. In turn, Longacre is enriching the collection of the WVRHC and ensuring key stories of the World War II era do not disappear. That's the magic of AmeriCorps: the connections that service members forge on an individual basis move the world towards a better future.
Read More Blog Entries