Background Image for Header:
Blog post by Lori Hostuttler, Assistant Director, WVRHC
Recently, my cousin gave me a shoebox of family photos that belonged to his mother, my dad's sister. I am curious about all my ancestors, but I don't know as much about my father's side of the family. So, these pictures are especially treasured.  The box contains images dating from ca. 1910-1994. I am grateful and very happy to have them.  There is just one problem – very few of the images are labeled.  While I recognize some people and places quickly, more than half of the images are unknown to me.  I am lucky that there are context clues and a couple family members that might help me, but there are some photos that I may never identify.  It is a simple endeavor that we often put off: labeling our photographs.  This post will give some quick tips for adding descriptive information to print photographs and digital images.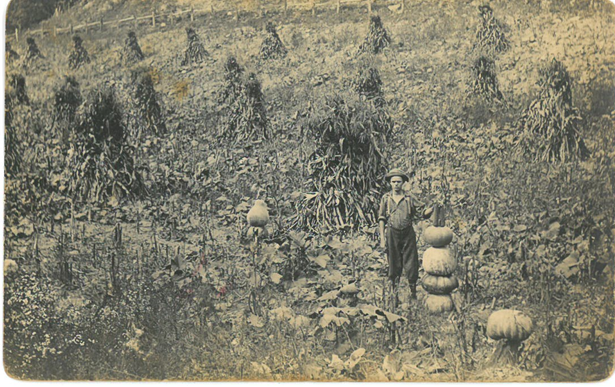 Labeling photographs will help your family members who inherit your pictures. It will also greatly assist archivists who might work with your family photos if they are donated to the archives.   
If you can record information about photographs separately and not write on the backs of the photographs, that is ideal.  But you must be able to keep the information connected to the image. If you are placing photographs in paper or plastic sleeve you can write descriptive information on the sleeve with a pencil or special pen as needed. Sleeves should be archival quality and care should be taken when placing or removing photographs from the sleeves.  The same goes for archival quality photograph albums. 
If you choose to write on photographs, you should always write on the back side. If the photograph back has a matte surface, you can use a pencil to very lightly write a date, location, and any other identifying information on the back of the photo.  Pencil lead will not bleed through the backing material.  Writing lightly is important.  Pressing too hard will imprint the text through to the front of the photo. 
If you have a photograph with a glossy backing, the Library of Congress recommends using a film marking pen to write on the back of the photographs. The pen must have acid free ink that dries quickly and doesn't bleed into the photograph material. Be careful not to stack photos while the ink is still drying to prevent unwanted transfer onto other photographs.  
Instead of writing out a full description, photos can be numbered on the back with pencil or a special pen. Details about the image can be recorded on a sheet of paper or in a digital file with information corresponding to the numbers. Again, that paper or digital file must always be available to the owners of the photographs for this method to work.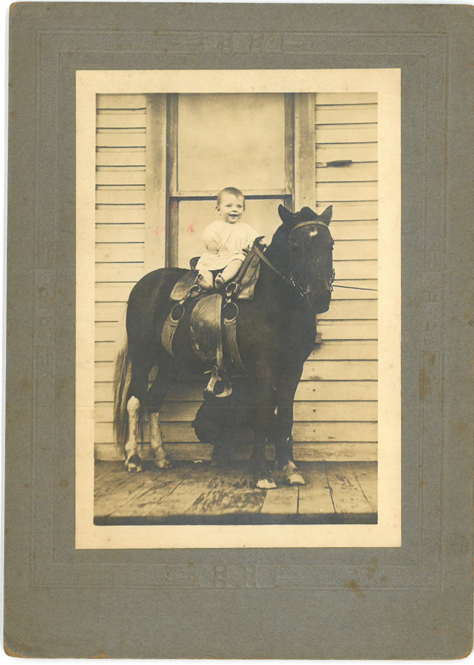 Most of our modern photographs are digital, so there are different challenges for "labeling" the images. Developing a naming system for digital images can help you to retain a minimal amount of descriptive information about the files.  You can include dates, location, and other details in the filename, but you don't want your filenames to be too long. If you name them with a consistent pattern such as YYYY-MM-DD_Location_Name, they will be easier to search and keep organized.  You can also create a folder structure with some subject information in the folder names.  
For large collections of digital images, you might consider a photograph management program such as Adobe Lightroom or Picasa.  These programs will allow you add tags and descriptive information about your photograph files.  If you don't want to use a program, this blog post gives an overview of adding information to digital photographs without using special software. 
I hope this post will inspire you to organize and label your photographs collection.  It will make your family and archivists happy in the future.  
Resources: 
Library Congress Photographs Preservation FAQ 
4 Easy Ways to Label Photographs Blog Post 
How to Add Photo Metadata without Special Software Blog Post 
Northeast Document Conservation Center Care of Photographs Preservation Leaflet 
Blog post by Stewart Plein, Associate Curator for WV Books & Printed Resources & Rare Book Librarian
A woman of many talents, Almira Hart Lincoln Phelps, (July 15, 1793 – July 15, 1884) was passionately engaged in the education of young women at a time when the ideal was marriage and children.  Over the years she wrote many textbooks, but this volume, Familiar Lectures on Botany, from the West Virginia and Regional History Center rare book room, is perhaps her most popular and enduring.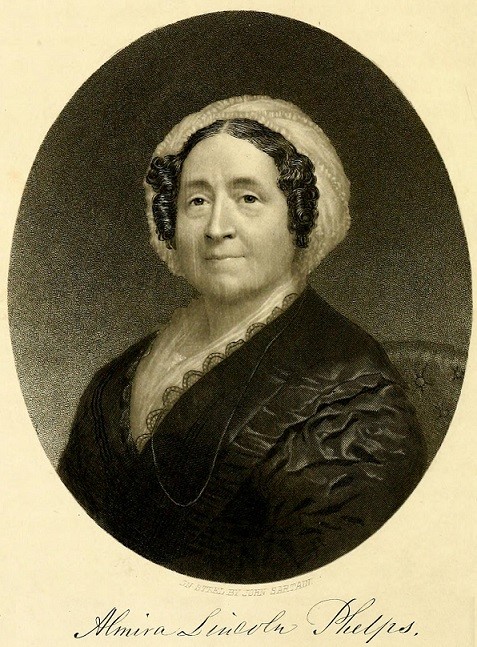 Familiar Lectures on Botany was her first textbook.  Designed to teach young women natural history and the science of botany, the book went through nearly 40 editions with revisions made by her daughters.
The Rare Book Room copy is the fifth edition, revised and enlarged, and it goes by the formidable title, Familiar Lectures on Botany; Practical, Elementary and Physiological, with an Appendix, containing the descriptions of the Plants of the United States and Exotics, etc. For the Use of Seminaries and Private Students. It was published in Hartford by F.J. Huntington, 1836. 
While many believe that the first edition of a text is the most important as well as the most valuable, that is not necessarily the case. The fifth edition, revised and enlarged with "many additional engravings."  would be of greater interest due to the extra illustrations and their accompanying text.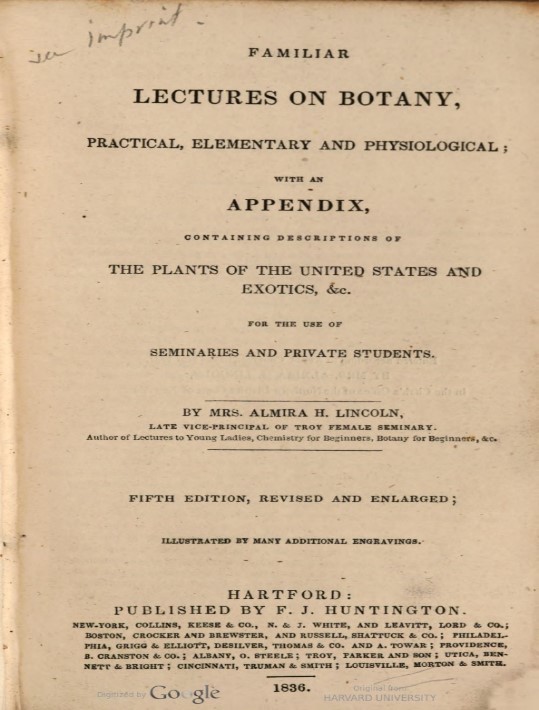 Born in Connecticut, Almira Hart came from a large family, the youngest of 17 children.  Her parents strongly believed in education for young women.  One of her older sisters, Emma Willard, pictured below, was a well-known educator, who taught herself geometry as a young girl.  The Emma Willard School she founded in Troy, New York is still educating young women today.  It was Emma who would teach the intellectually inquisitive and capable Almira.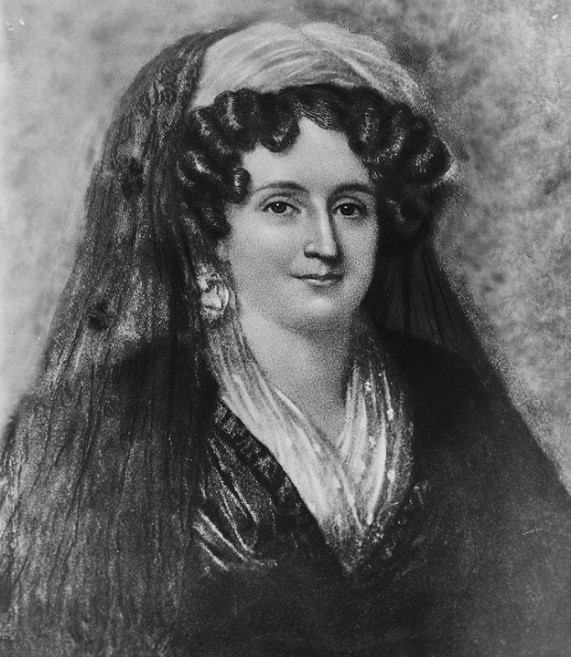 At that time, there were few schools dedicated to educating young women.  In addition, academic institutions taught boys and girls separately at schools that were privately owned, not state supported.  These schools were frequently operated under personal ownership, mostly by the educators themselves, such as Emma Willard's School for Young Women.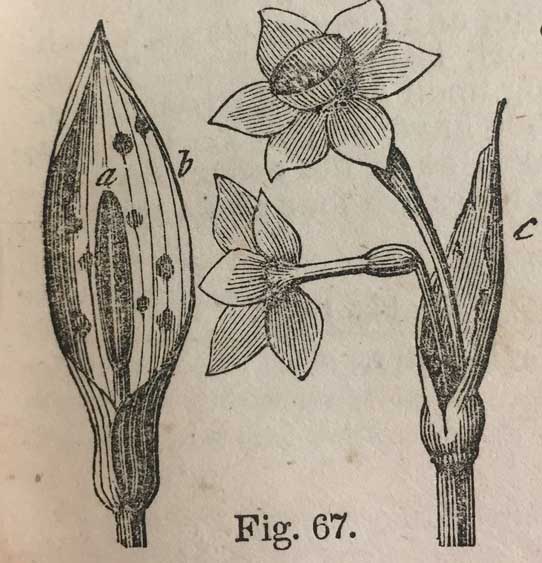 Another New Englander, the poet Emily Dickinson, was a student of botany at the Amherst Academy in her home town of Amherst, Massachusetts.  She would often roam the woods, gathering plants, bringing them home to press, then pasting them onto pages, creating a personal herbarium that documented the world around her. 
Dickinson's botany textbook was Phelps's Familiar Lectures on Botany. As her poetry was often filled with flowers, it is no surprise that her own copy of Phelps's textbook holds a pressed flower between its pages, placed there by Dickinson herself.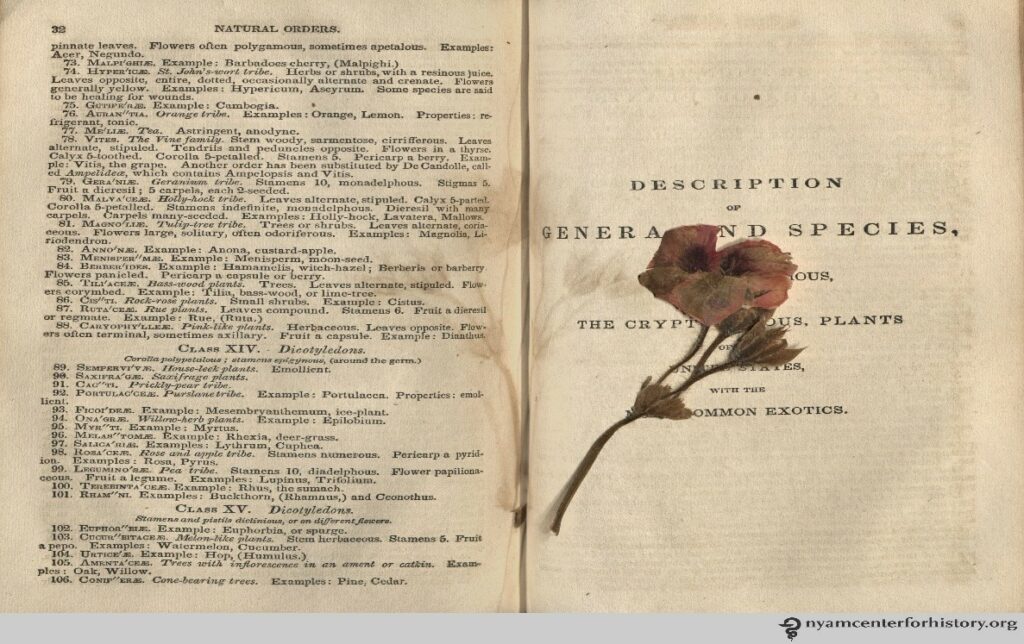 The original owner of the rare book room's copy of Familiar Lectures on Botany, was Ellen Beirne, of Belmont.  Though we don't know which state she lived in, there are three towns named Belmont in New England, we do know that she was probably the first person to own this book.  Published in 1836, the date she wrote beneath her signature, December 11, 1837, hints that she acquired it shortly after publication.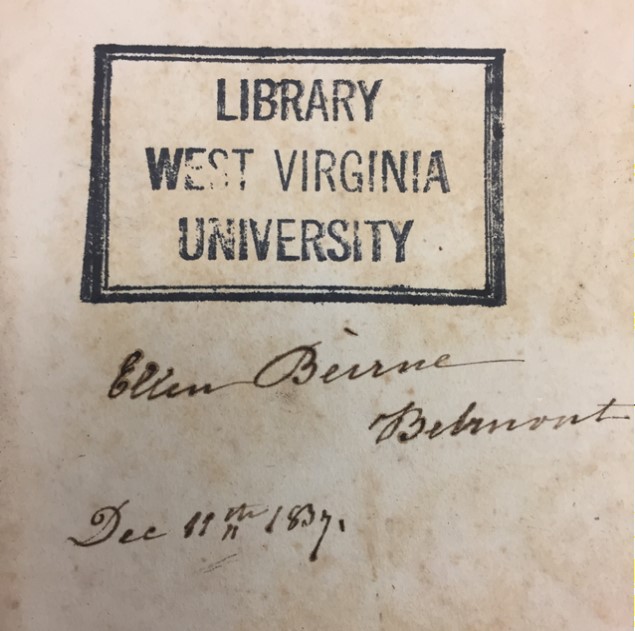 In this year, 2020, as we mark the centenary anniversary of women's right to vote and celebrate the suffragists that made it possible, it is interesting to note that Phelps, as a passionate advocate for the education of women, was fervently against women's suffrage.  Though she believed that women should be educated in the event that they would have to work outside the home, she spoke out against suffrage and wrote articles against it. 
The next time you take a walk and find your eye attracted to a beautiful wildflower along the way, think of Mrs. Almira Hart Lincoln Phelps and her Familiar Lectures on Botany, a book that educated an aspiring poet as well as many other young women who may not have had the opportunity to learn botany without her. 
Resources:
Blog post by Linda Blake, University Librarian Emerita
Family papers are those things that we have saved because they mean something to us – they are our paper treasures – and they tell us something about ourselves, our families and our friends: how we've lived our lives and what we value most.

Society of California Archivists
Many of us are using this unusual amount of time at home during the COVID-19 epidemic to sort through our treasures.  This is especially true for folks like me who have a 40-50 year accumulation of stuff.  During my raid on the basement, I found boxes of photographs and family documents which I took responsibility for after my mother's death in 1998.  This was a role expected of me since I am the librarian in the family and I am a part time employee of the West Virginia and Regional History Center.  I get to decide what to keep or what to get rid of and how to preserve records that are important to us.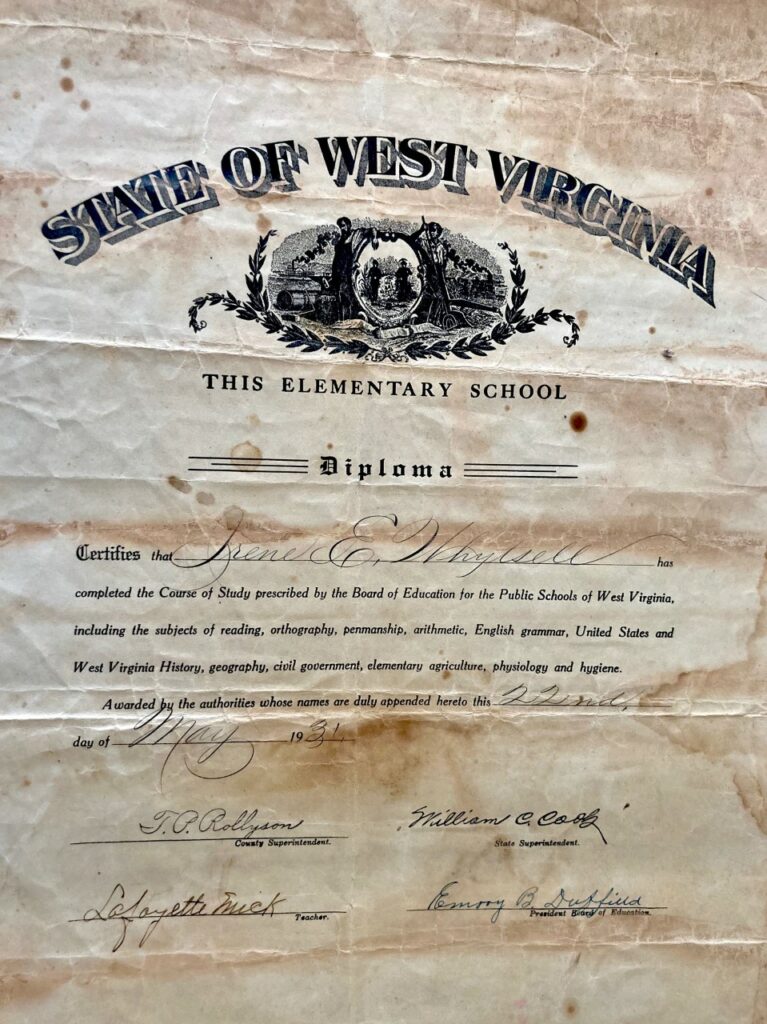 My job in the Center is to process papers and records of families and organizations. Every single collection I process in the Center provides me with more knowledge about how to preserve materials and how to make the information in them accessible for researchers.  Records come in a wide variety of formats and media but they are mostly paper based.  One of the collections I processed last year had obviously been stored in a non-climate-controlled area.  One sign of that was that the papers contained a large number of rusty paper clips, staples, and metal binders.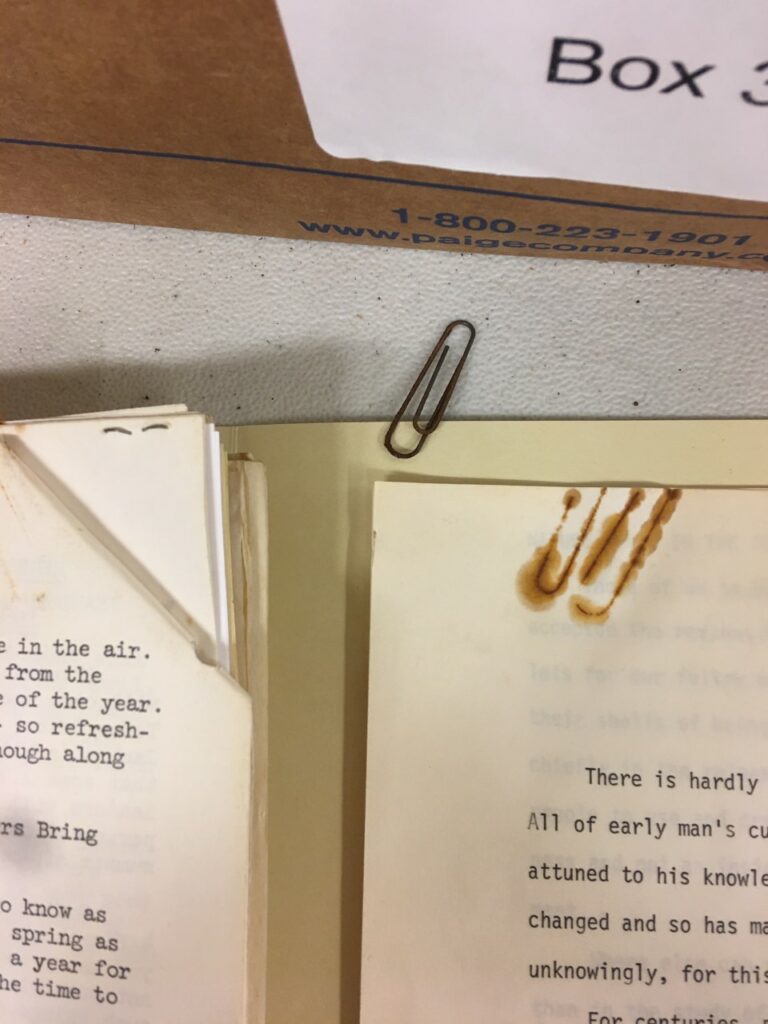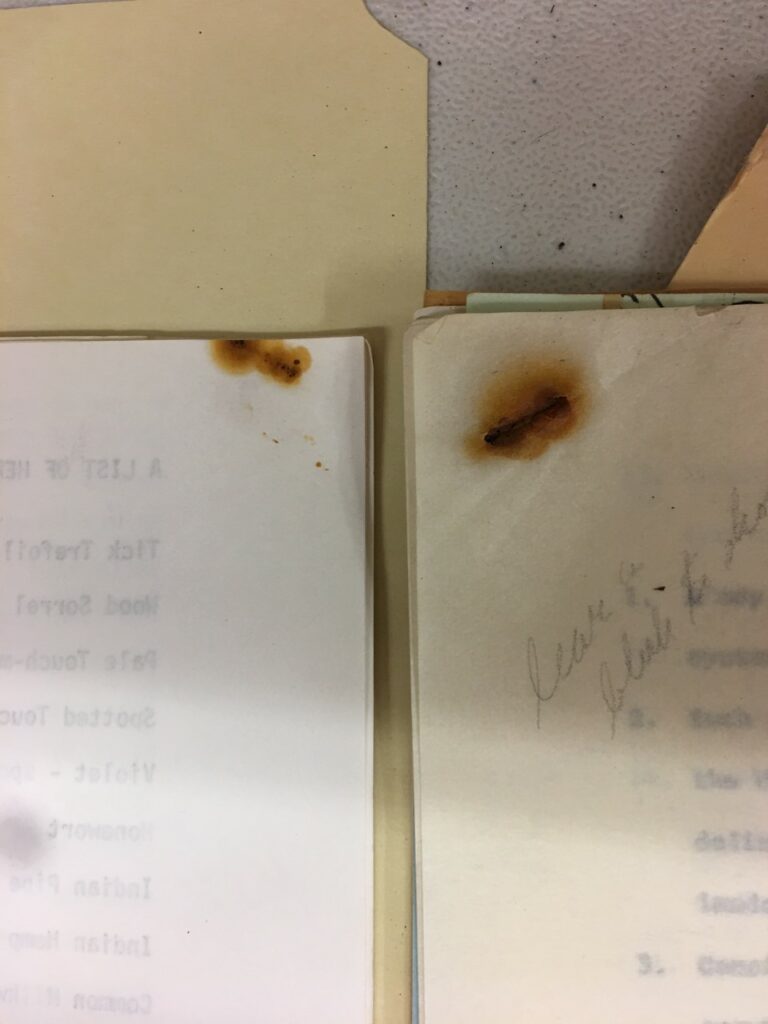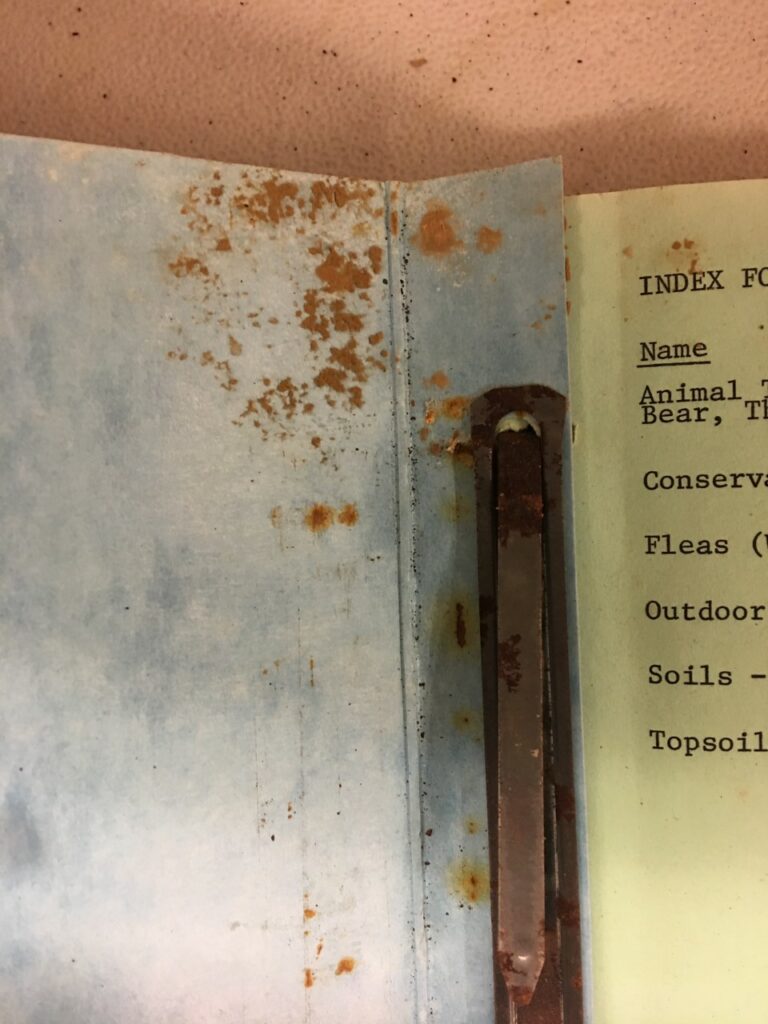 This blog post will not be dealing broadly with preservation of materials in archival collections or family documents, but will look only at metal fasteners such as staples, paper clips, and binders, with some rubber bands thrown into the metal mix.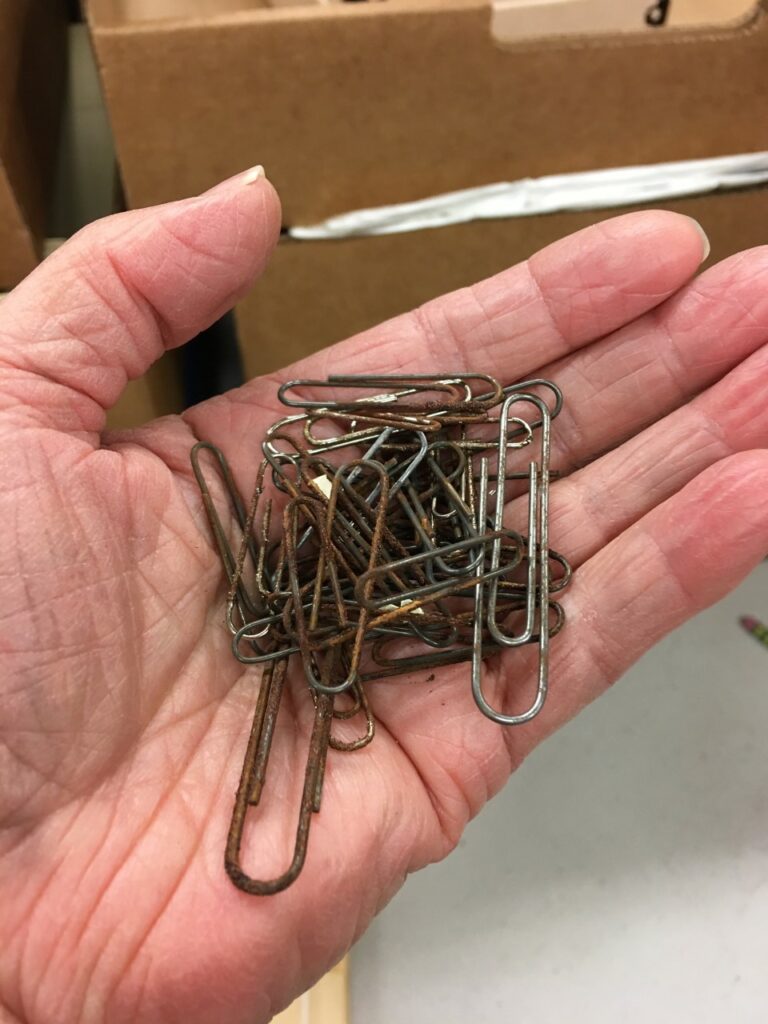 Since the worst enemies of paper are heat, moisture, and light, metal paper clips frequently degrade on archival records and they should be removed if possible when you find them in old records, ideally before they completely adhere to the papers.  Instead, it is best to use plastic or plastic-coated clips.  Major retailers sell these as well as office supply stores.  Some archives prefer to use stainless steel paper clips, which are supposed to be rust-proof.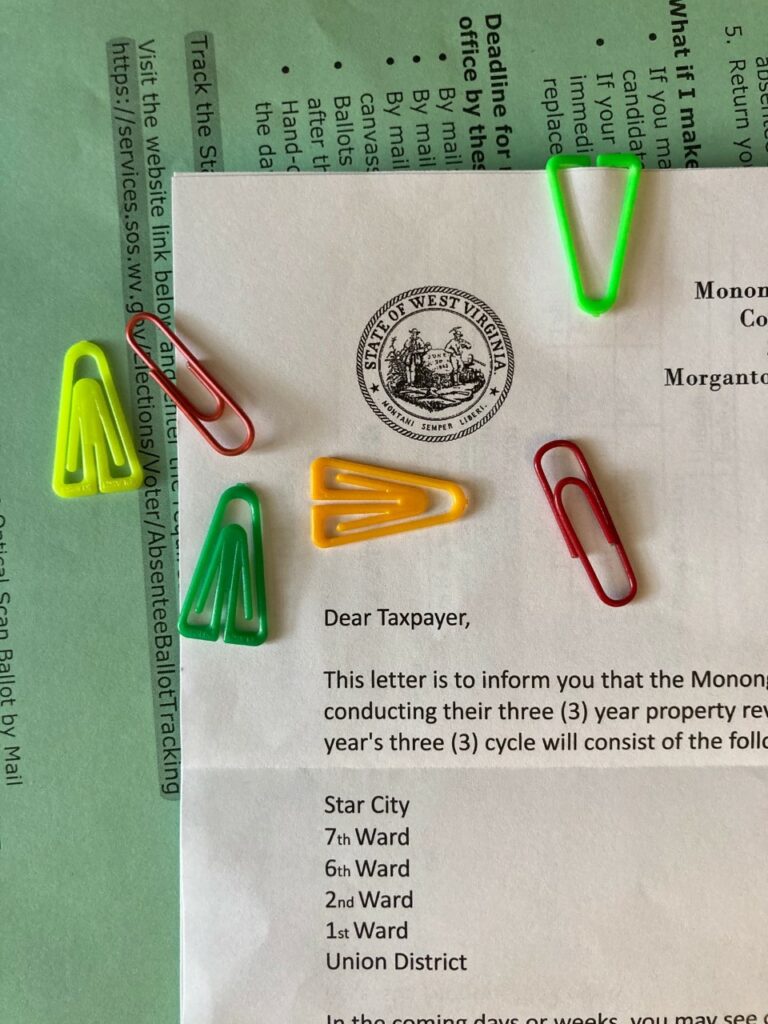 To remove rusty paper clips which are adhering to the paper, I stabilize the paper on a flat surface by holding the corner down as I insert a knife or letter opener under the open end of the paper clip keeping it parallel to the surface.  I open the paper clip while sliding the knife under the open end while continuing to stabilize the paper on a surface.  When the clip is fully open, I can remove the paper clip without damaging the paper.  Sometimes the paper is so brittle that it will crumble no matter how careful you are with getting the clip from around it.  It's a very meticulous process requiring patience.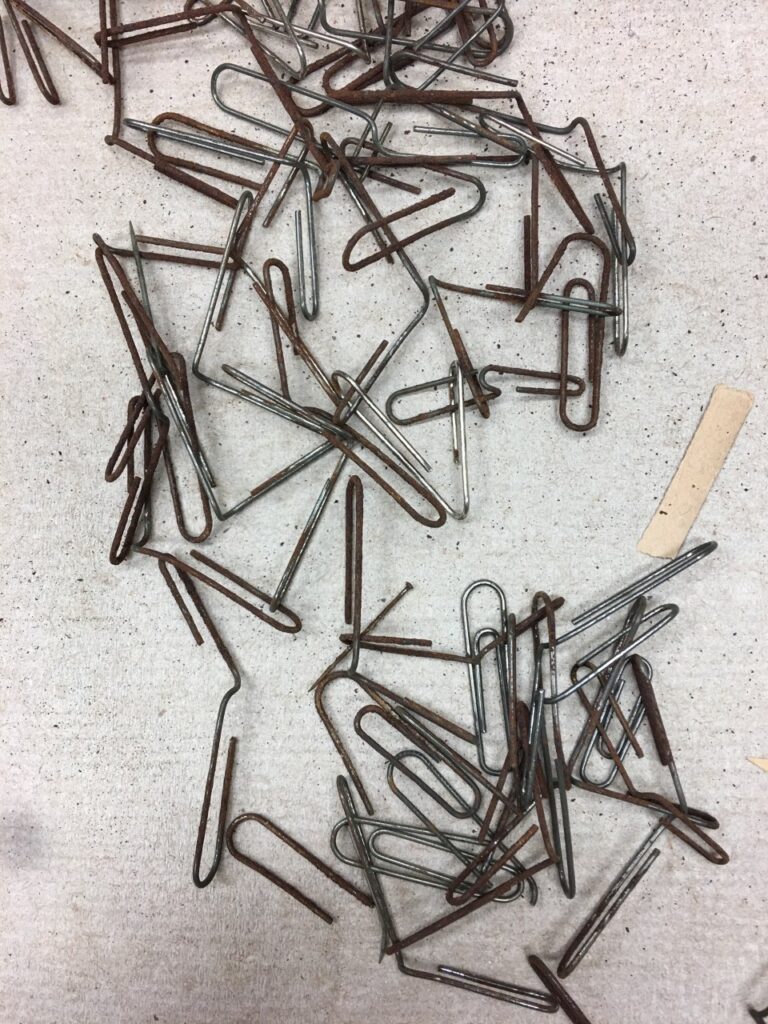 I will mention one last commonly used fastener which will cause damage to our family papers.  Rubber bands are susceptible to the same enemies as metal fasteners: moisture, heat, and light.  Rubber bands will melt, crack, and degrade leaving their mark over time. 
According to a flyer from the National Park Service, you can use a microspatula to remove both paper clips and residue from rubber bands.  The microspatula is available online at major retailers and scientific instrument stores.  I haven't used it, but this source has some excellent suggestions on removing fasteners.  
If you aren't able to check your family papers for problematic fasteners now, you can buy time by storing the papers in an environment that is climate controlled, not exposed to extreme temperatures or humidity fluctuations.  That should help the fasteners degrade less rapidly.
I hope my experiences working with the documents in the West Virginia and Regional History Center will help you preserve some of your meaningful family treasures.
Additional Resources:
Society of California Archivists, "Family Papers: Preservation and Organization."  Accessed at on July 28, 2020: https://calarchivists.org/Resources/Documents/Brochure_Series/Papers_in-English.pdf
U.S. Library of Congress. "Care, Handling, and Storage of Works on Paper." Accessed on July 28, 2020 at: https://www.loc.gov/preservation/care/paper.html
U.S. National Parks Service. "Removing Original Fasteners from Archival Documents" Conserve O Gram, July 1993, 19(5). Accessed September 1, 2020 at: https://www.nps.gov/museum/publications/conserveogram/19-05.pdf
Read More Blog Entries