Background Image for Header:
Blog post by Linda Blake, University Librarian Emeritas
George H. Breiding, 1917-2007, spread the news regarding the importance and impact of nature and its conservation.  While a naturalist at Oglebay Park in Wheeling, 1950-1963, where he was born, he wrote a nature column for the Wheeling Intelligencer, did radio interviews, and taught youth about the natural world.  He was an agent for WVU's Extension Services, 1963-1979, and also wrote widely for various popular magazines including Wild Wonderful West Virginia and Bird Watcher's Digest.  As I said, he spread the word at every opportunity.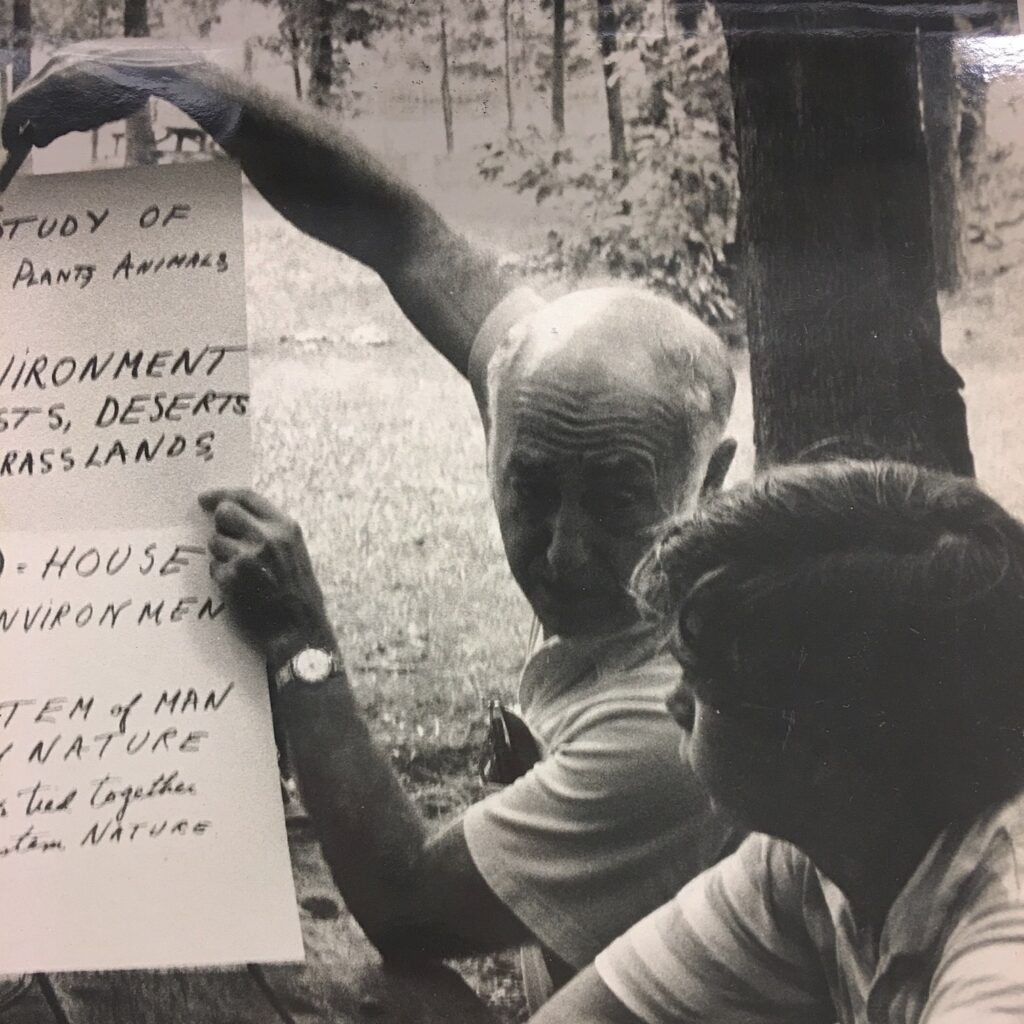 His lifelong passion, as reflected in his papers in the West Virginia and Regional History Center, was nature and particularly birds and particularly warblers, and particularly Swainson's Warbler.  All his adult life beginning in 1941 when he was stationed in Colorado in the Army, he maintained daily logs recording data on high and low temperatures, bird sightings, plants observed, and more.  He traveled the world to better observe birds but his papers in the WVRHC document observations in Puerto Rico, Guatemala, and Costa Rica.  Breiding's collection also contains counts of birds he saw here locally in the WVU Core Arboretum, in the West Virginia Botanic Garden, at Coopers Rock, and on his property in the Range Run area of Monongalia County among other locations.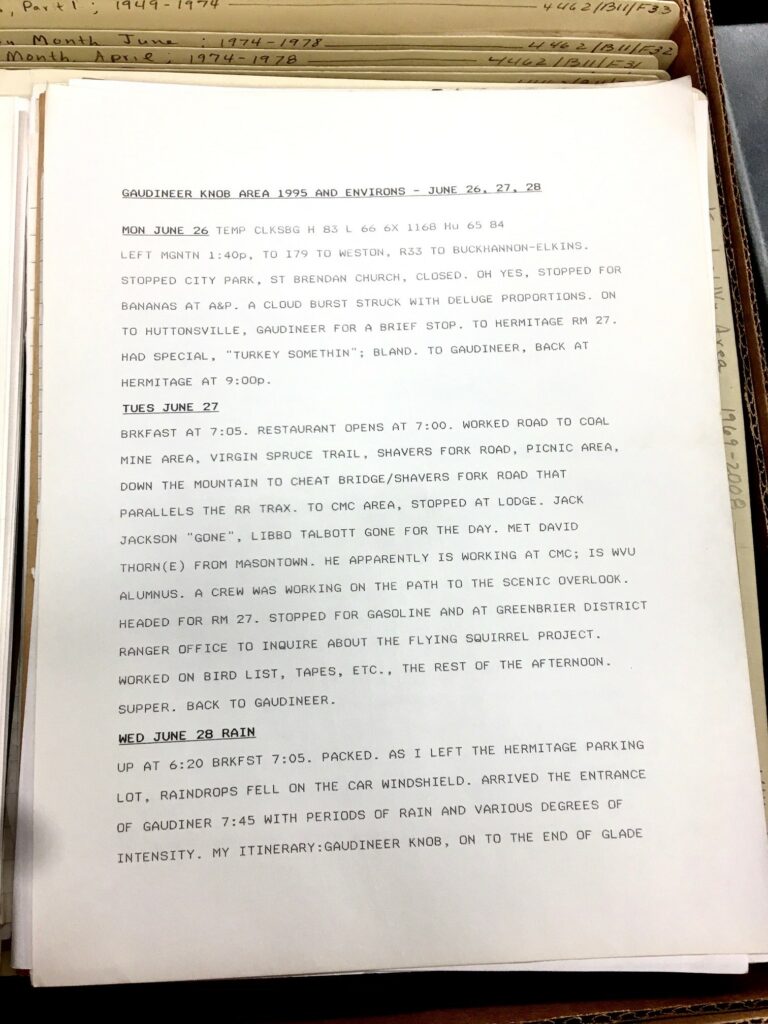 As I process Breiding's papers, or really any collection, I think about why the material is valuable and why is my work important beyond the preservation of a person's life work. Why is George Breiding's extensive lists of birds important?  Some years ago I remember being in a WVU classroom when someone spotted through the window a hawk flying over.  The professor told us that he was so happy to see the hawk because it indicated that the Monongahela River had returned to health.  Scientist see robust bird populations as an indicator of the condition of rivers, streams, and forests, in short the whole ecology of an area.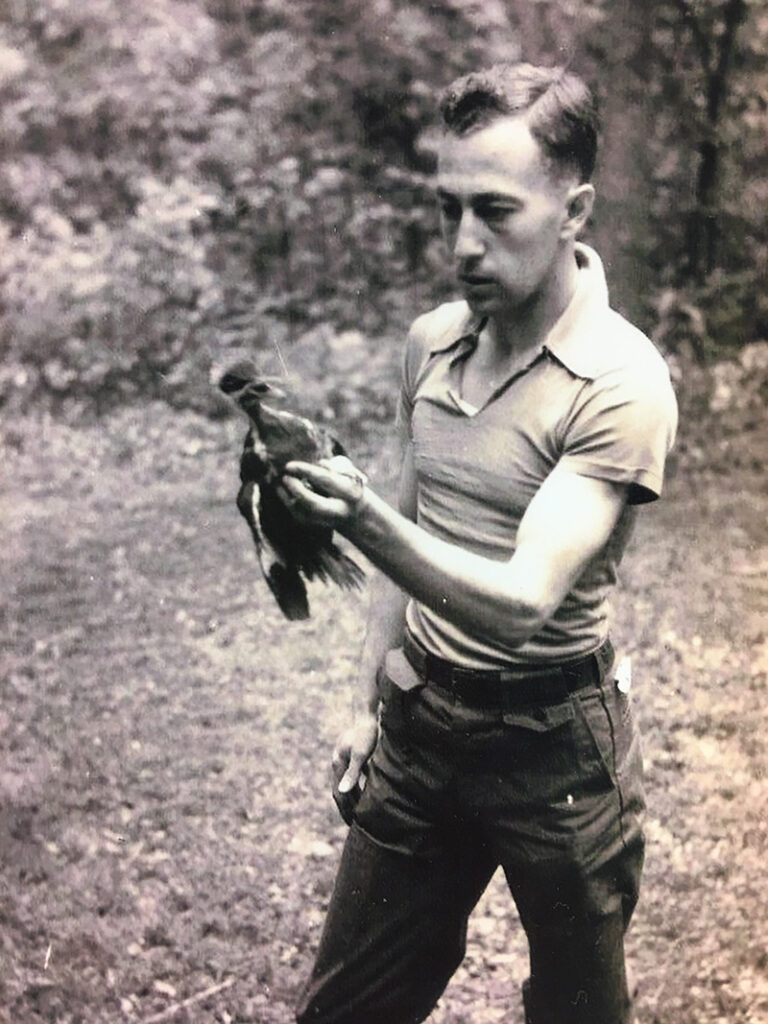 Bird populations are in dire trouble due to climate change and other factors such as destruction of bird habitats.  A much-reported study in an October 19, 2019, article in Science indicates that the North American avifauna, birds of a given region, have suffered a 29% reduction since 1970.  This is a loss of 3 billion birds across species and environments!  Could Breiding's bird recordings help scientists understand how the birds in our area and state have been affected?  Could a compilation of his data indicate the return of birds if this threat to biodiversity and ecosystems is averted by conservation and legislative action? 
Please visit us in Morgantown at the Downtown Campus Library to see George H. Breiding's papers, A&M 4462 [editor's note: the online finding aid should be available next week], or selected West Virginia collections about birding in the West Virginia and Regional History Center:
A&M 0149, Earl A. Brooks Ornithological Notes, 1890-1915
A&M 3162, Maurice Brooks, Biology Professor, Papers, 1922-1973
A&M 3701, National Audubon Society, Mountaineer Chapter Records, 1970-2013
Blog post by Lori Hostuttler, Assistant Director, WVRHC
About this time one hundred years ago, WVU students returned to Morgantown to begin a new semester of classes.  The collections at the West Virginia & Regional History Center allow us a glimpse of student and University life back then.  The Athenaeum student newspaper describes student experiences, happenings on campus, and the important topics of the day. 
Old issues of The Athenaeum newspaper (later called the Daily Athenaeum) are available for viewing in the Center's microfilm collection. Microfilm is an older but durable format for preservation.  Don't be intimidated, our staff will help you learn how to use the machines to view it.

The January 12 issue of The Athenaeum was the first of the Spring semester in 1920.  Classes started a week before, on January 5.  The front page featured headlines about a student poll regarding joining the League of Nations, an upcoming military ball, the happenings at a recent student volunteer conference, and details about the latest basketball game.  Indeed, then as now, basketball was an important topic at this time of year and was covered heavily in this issue.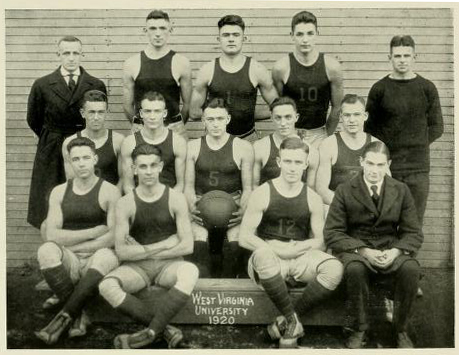 On the first page, The Athenaeum lobbied for a new basketball facility in an ad that says, "West Virginia University Must Have A Real Gymnaisum."  At that time, the WVU Basketball team played games in "the Ark."  The Ark opened in 1916 and was the home court for 12 seasons until the Field House (Stansbury Hall) opened in 1929.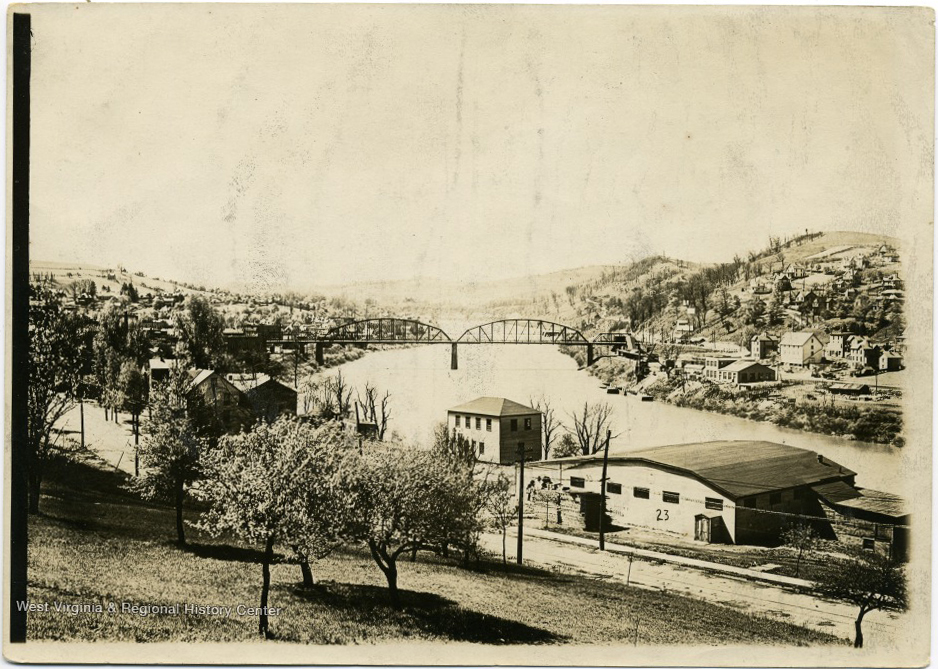 In a letter to the editor, Athletic Director Dr. Harry Stansbury encouraged fans to show courtesy and sportsmanship during games.  He wrote, "I think I will be supported by any of our players who have made these eastern trips when I say that our reputation for sportsmanship  would suffer most sadly should the knowledge of the conduct of our crowds at our basketball games become generally known."  He went on to tell students that, "it should be their duty at every game to restrain other spectators whether they be students or townspeople, who insist on conducting themselves in a manner that reflects on the University."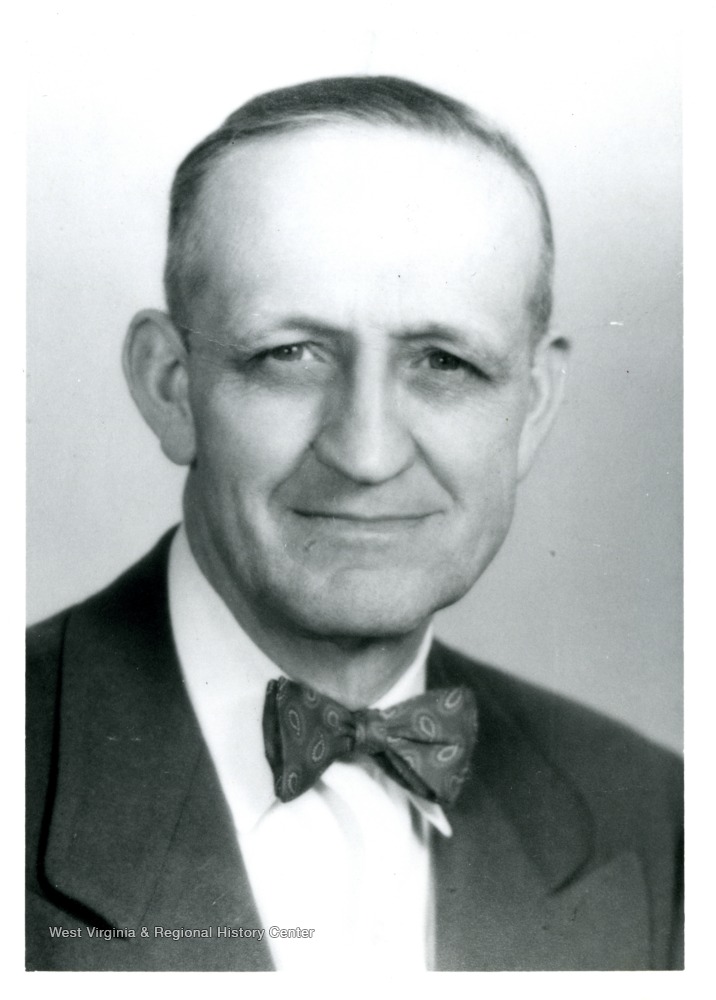 An Athenaeum editor also noted that the WVU ballers became tired while on trips for away games and suggested that the team add more players for those games.  The editor also covered another topic that sounds familiar:  traffic issues upon returning to classes.  In 1920, the problem was not that too many cars were on the roads but train cars coming into Morgantown were overfilled because of a farmers week meeting on campus happening at the same time that students were returning. The editor's suggestion to solve the problem? WVU should hire a transportation agent. (For more on Farmers' Week, check out our Farmer's Week blog post.)
The Athenaeum is a fascinating look back at life 100 years ago.  Read through the through the entire issue below.  And please fill us in if anyone knows more about the secretive "Ketchup Klub."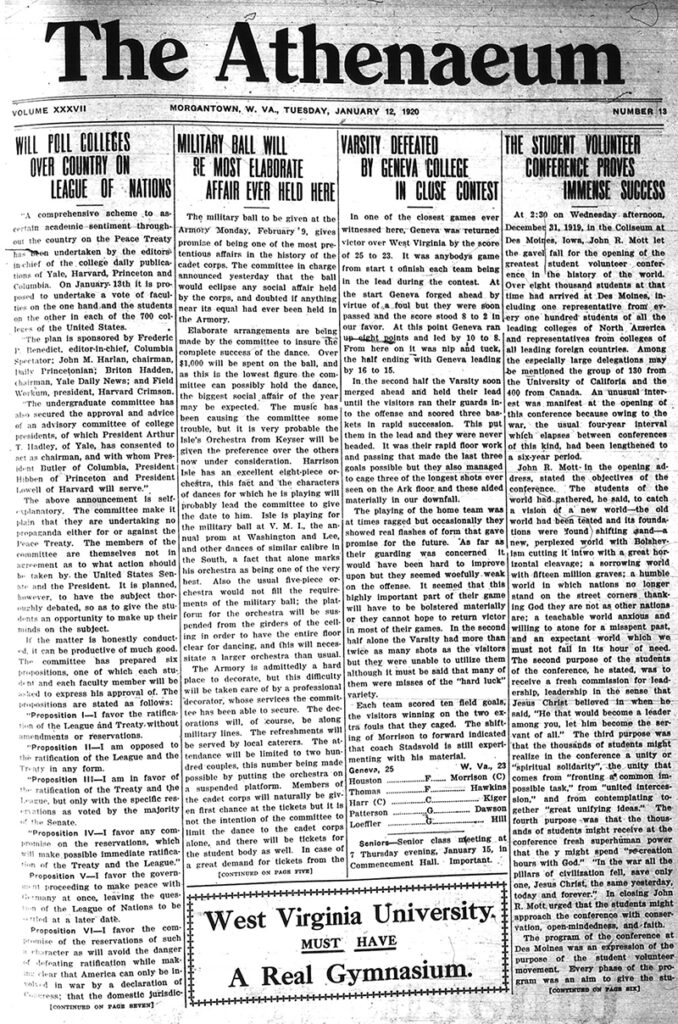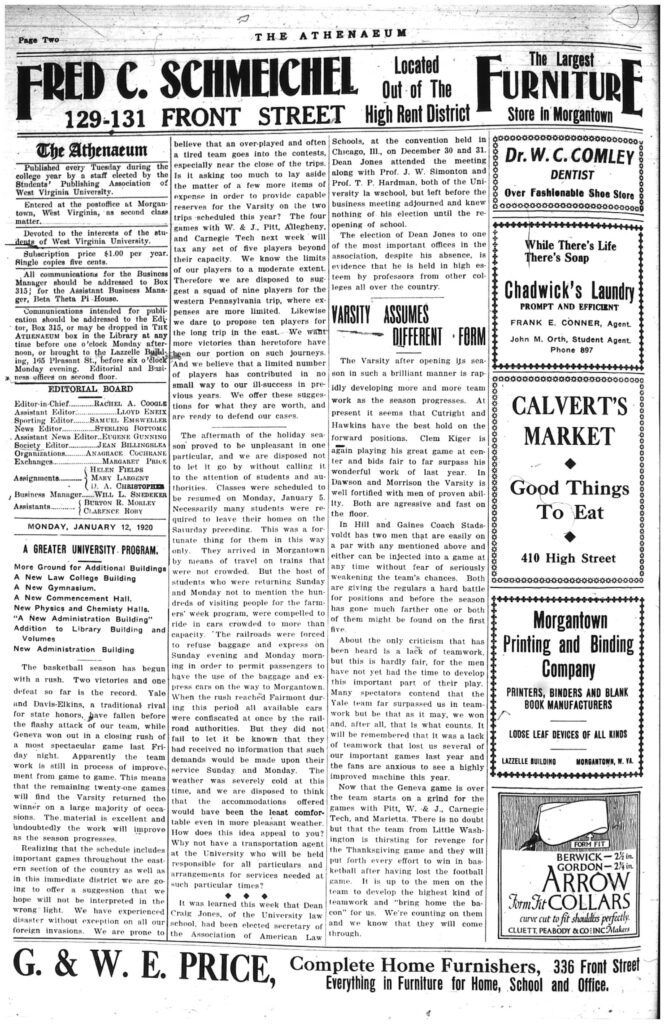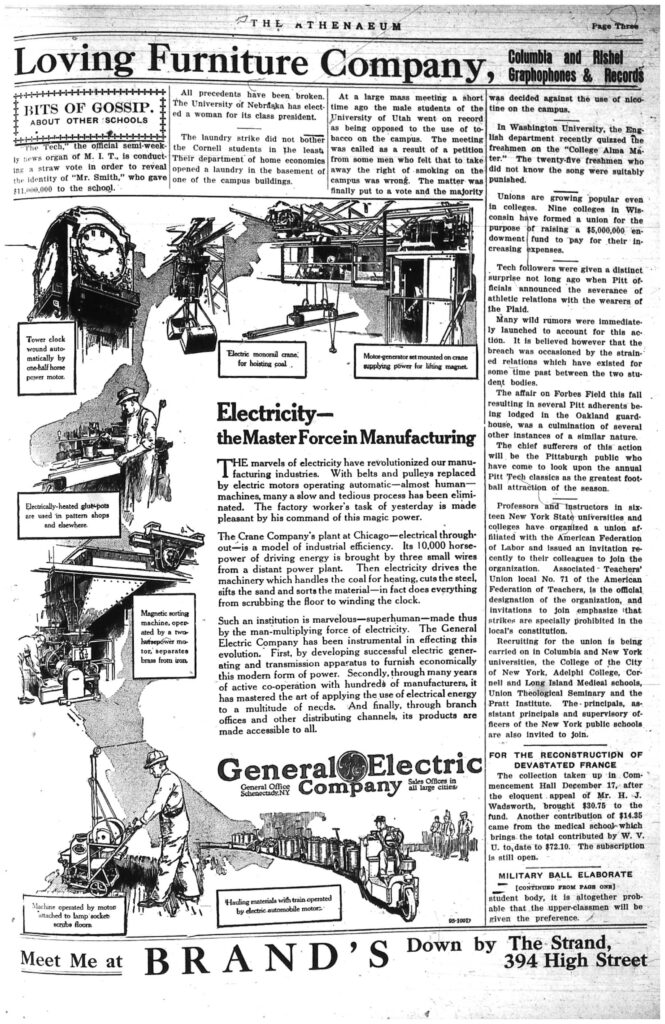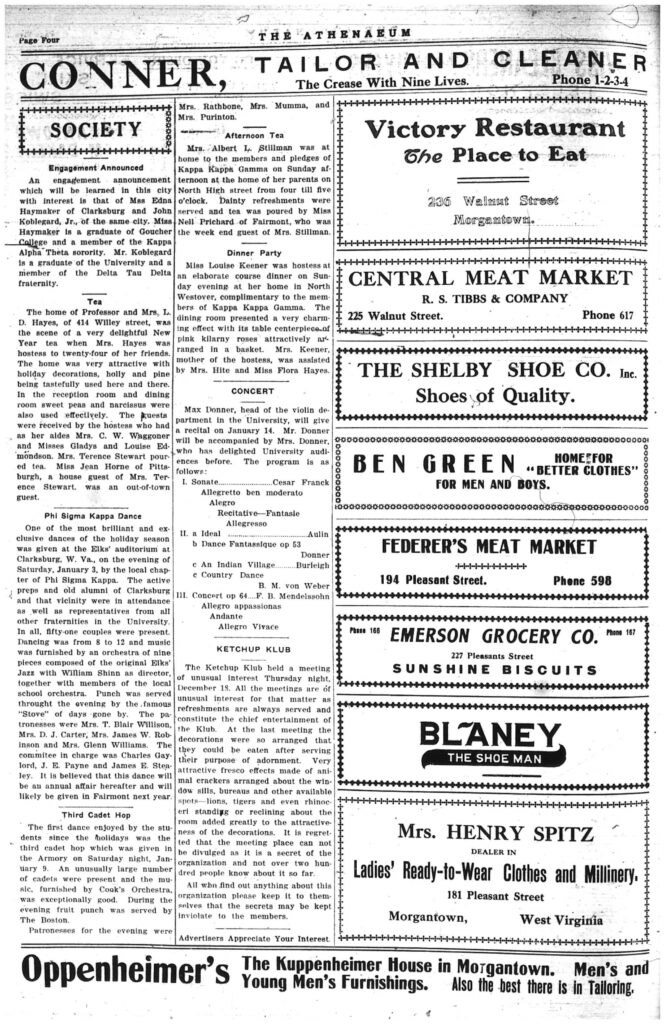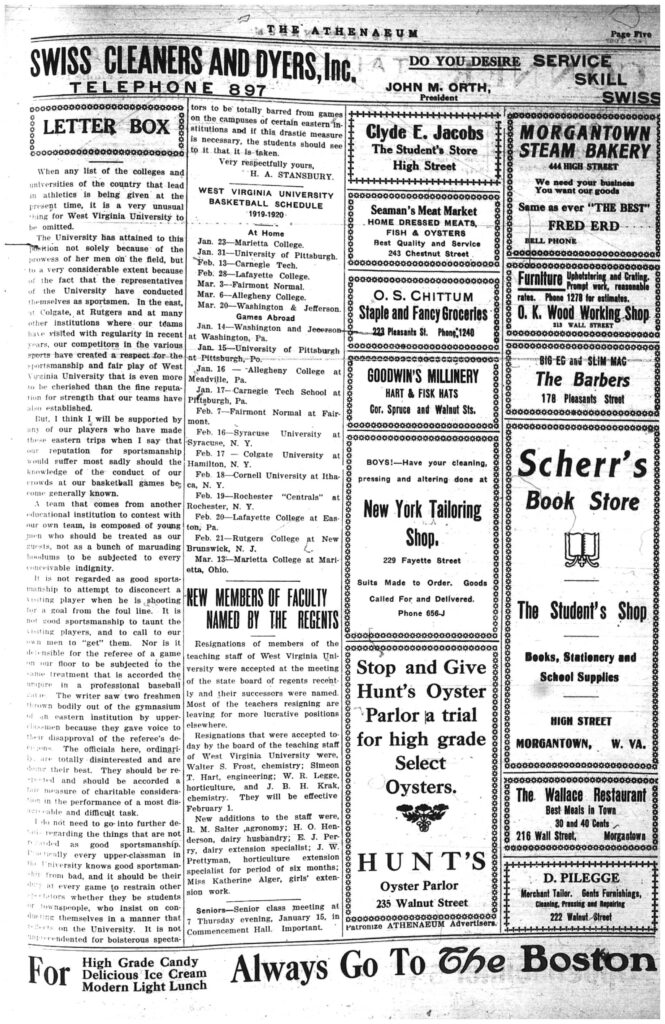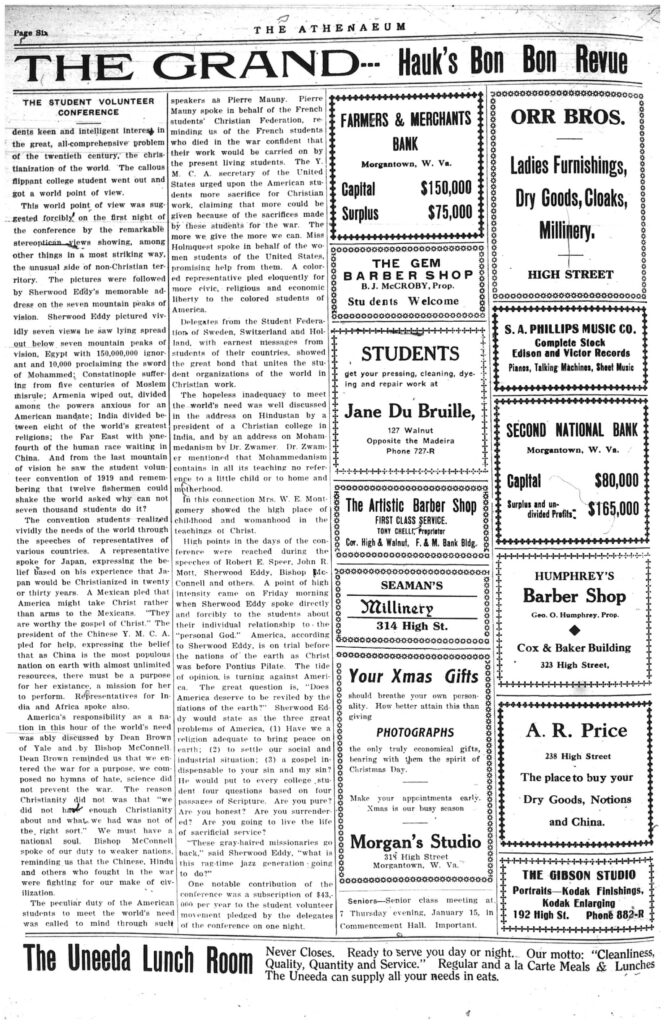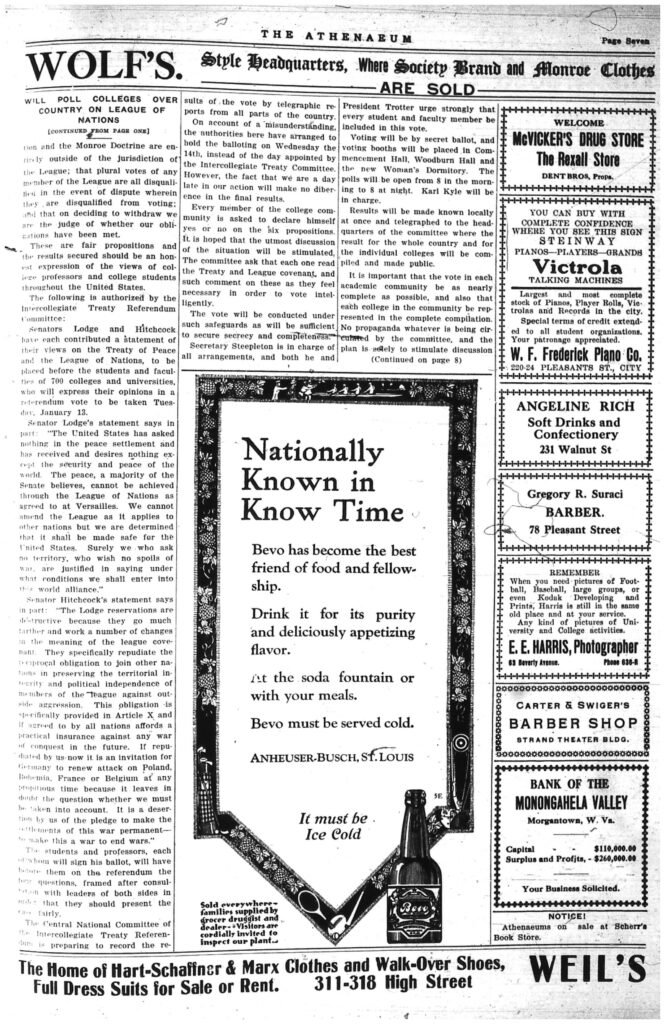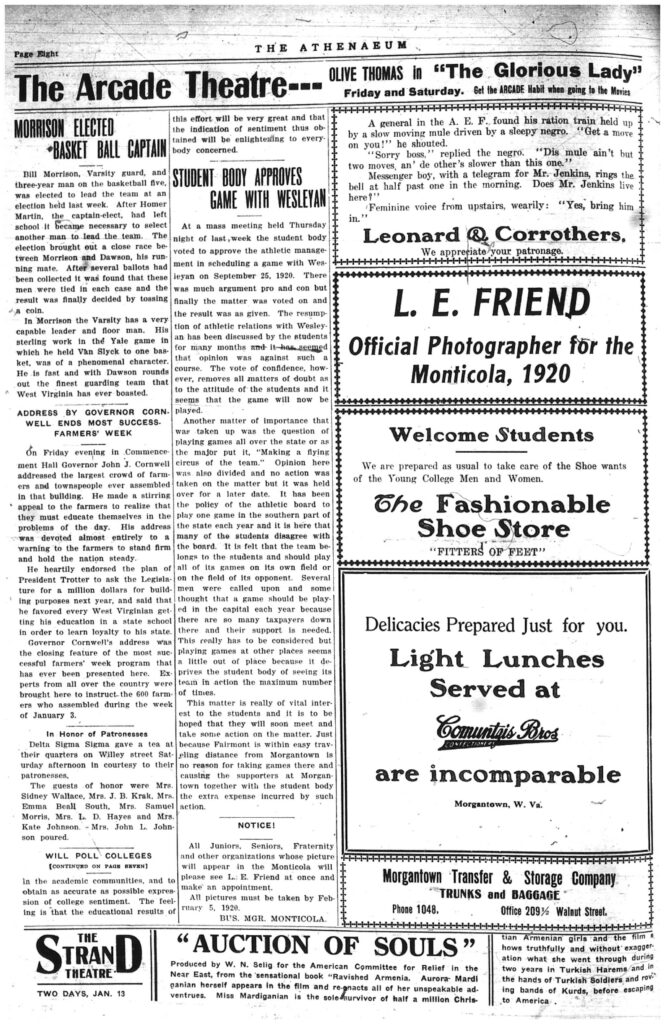 By McKayla Herron, Graduate Assistant at the WVRHC
Working as a graduate assistant at the WV&RHC, I have been surrounded by amazing archival materials. This semester I had the opportunity to undertake an in-depth study of Thomas Jefferson's Common Law Dictionary, one of the many treasures found in our Rare Book Collection, as part of my coursework for ARHS 412: Collections Care and Preservation of Material Objects. (This book was featured in a previous post by Rare Book Librarian Stewart Plein.) Utilizing a microscope to examine the book, I was able to learn more about the materials that comprise it and the techniques used to make it.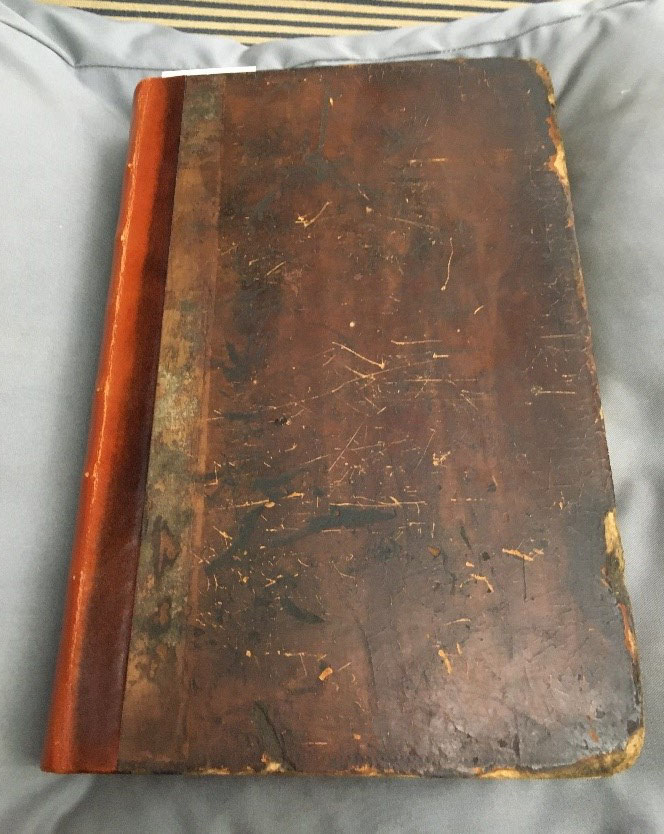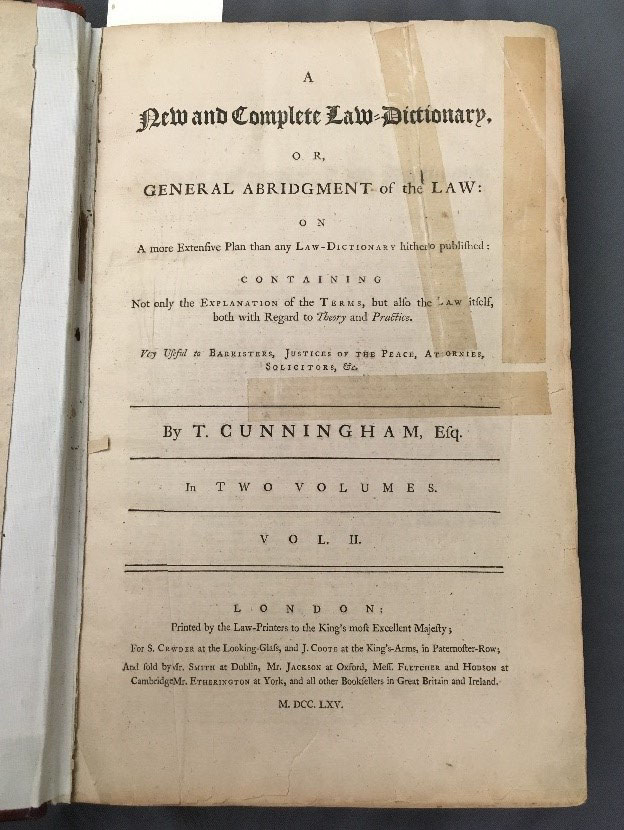 This legal dictionary was printed in London in 1765. Its paper is made of linen and cotton rags, as was common in the eighteenth century. The rags would have been soaked in water, beaten, and broken down into a pulp that the printers then dipped into paper molds.  The resulting sheets are both high-quality and durable. The microscopic image below shows the interwoven cotton and linen rag fibers in the dictionary's paper.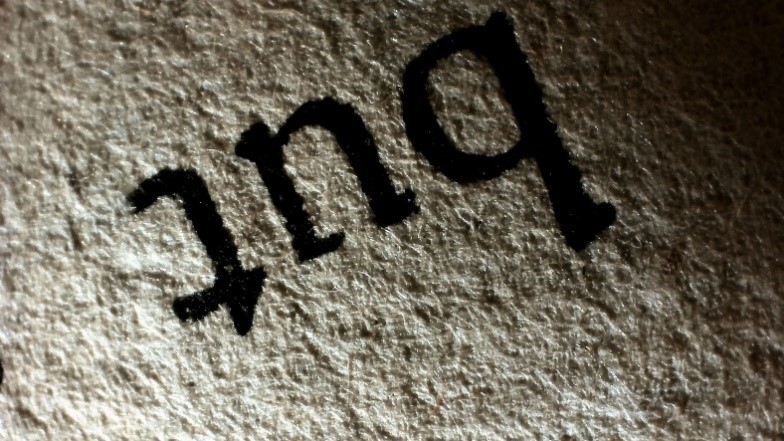 Microscopic analysis revealed that many tiny imperfections are present in the paper. As illustrated in the image below, what appeared to be a small ink smudge to the naked eye is actually some type of foreign material embedded within the rag fibers. The fact that the fibers both surround and cover this material indicates that it was present when the paper was made. The presence of this material is understandable, seeing as the paper was handmade.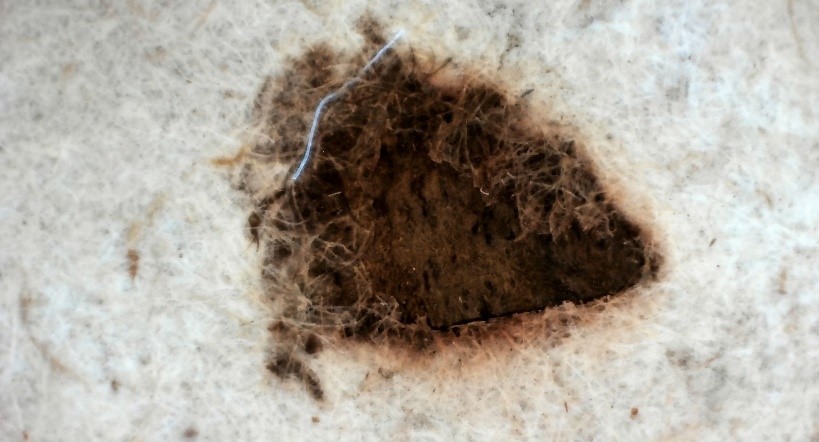 Images taken with the microscope also illustrate the differences between the book's printed ink and the ink which was hand-applied by Jefferson. The printed ink is much darker and was applied more uniformly. The brown tint in Jefferson's ink is indicative of iron gall ink (which was the most popular writing ink used in the American colonies). Iron gall ink is known to be extremely acidic and, over time, can eat through the paper it is applied to. There is no evidence of this happening to Jefferson's dictionaryyet, but we will have to watch carefully to see if it starts to!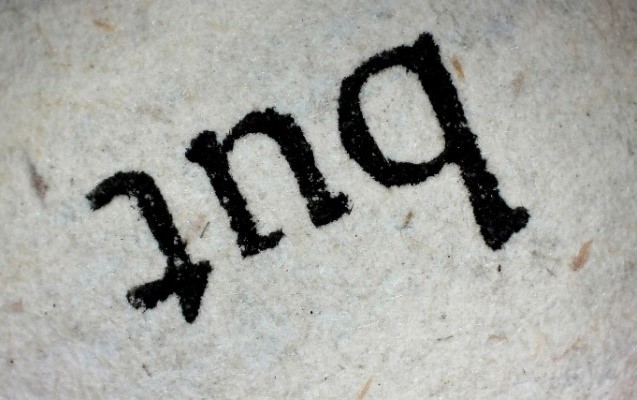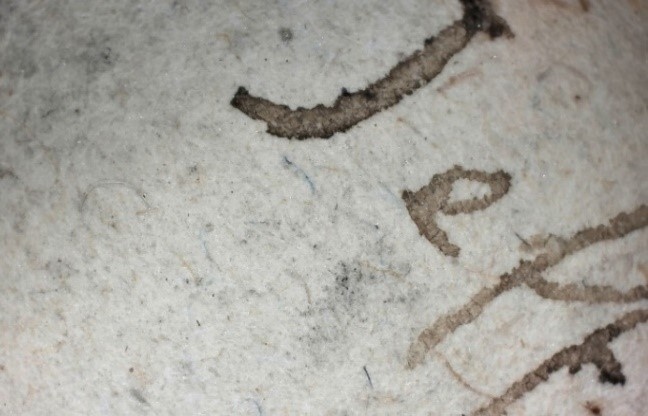 The book's original spine has been replaced, but it does retain the original front and back covers. These covers were made of many tightly compressed layers of the same rags used to make the paper. This dense tangle of rag fibers can be seen in the magnified image below, which was taken along one of the exposed edges of the book's front cover.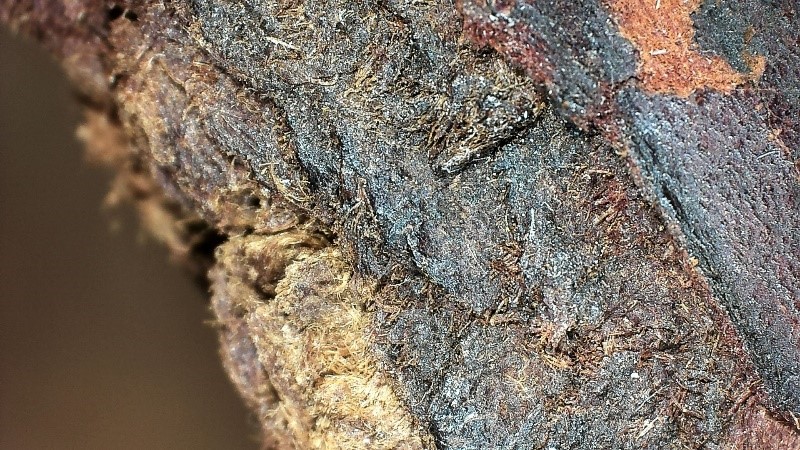 There is a thin layer of leather wrapped around both covers and the spine. Sometimes, microscopic examination can reveal a follicle pattern in leather, which helps conservators identify the type of animal skin used to make it. I was not able to identify a clear follicle pattern through my examination, but there is a good chance that this book's leather was made of calfskin.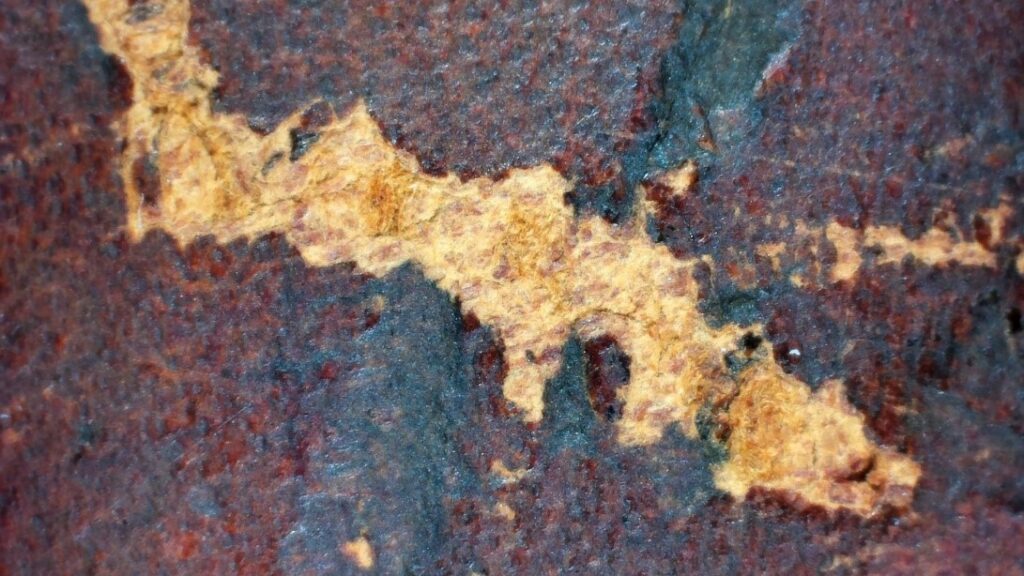 Knowing the composition of the dictionary's paper and binding will help us preserve it in good condition for many years to come. If you'd like to see it yourself, contact rare book librarian Stewart Plein at Stewart.Plein@mail.wvu.edu or (304) 293-0345.
Read More Blog Entries