Background Image for Header:
Blog post by Lori Hostuttler, Assistant Director, WVRHC
A couple of years ago, I purchased a small cookbook from the Helvetia table during WVU's Mountaineer Week.  I collect local cookbooks and this one was of special interest because I had just learned that my Hochstadler ancestors had likely immigrated from Switzerland to America in the mid-eighteenth century.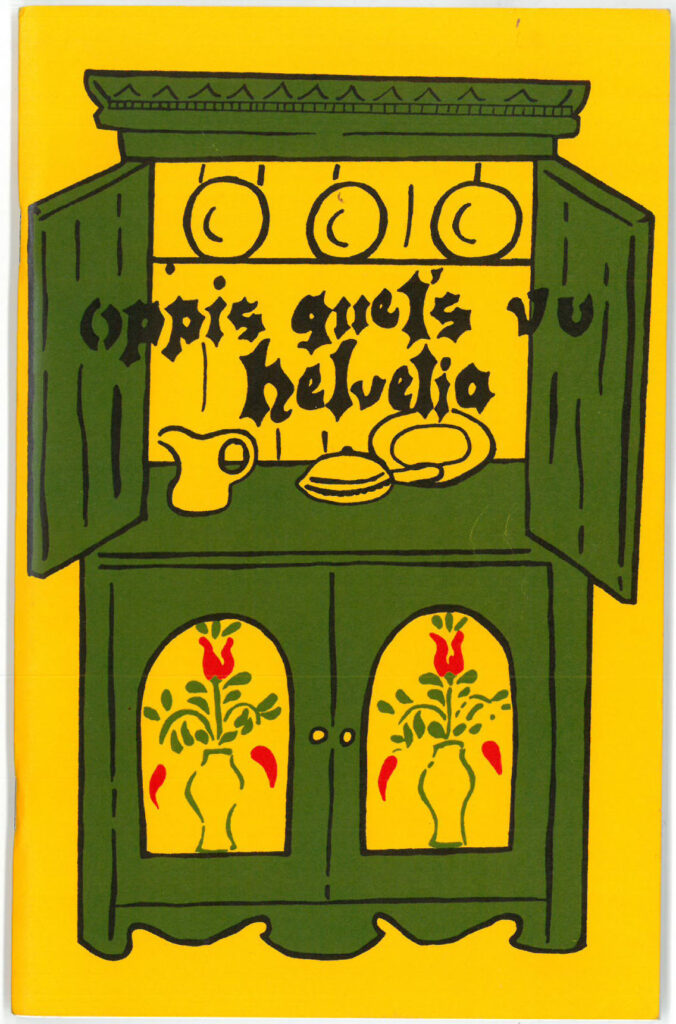 Helvetia is a small town in Randolph County, West Virginia, that was settled by Swiss immigrants beginning in 1869.  The community shares their heritage and traditions during the annual Fasnacht celebration that marks the end of winter, the Community Fair in the fall, and through the Swiss menu at the small restaurant "The Hutte" (pronounced hoo-tay).  The West Virginia & Regional History Center holds substantial collection materials relating to Helvetia including manuscripts, books, and a large number of photographs.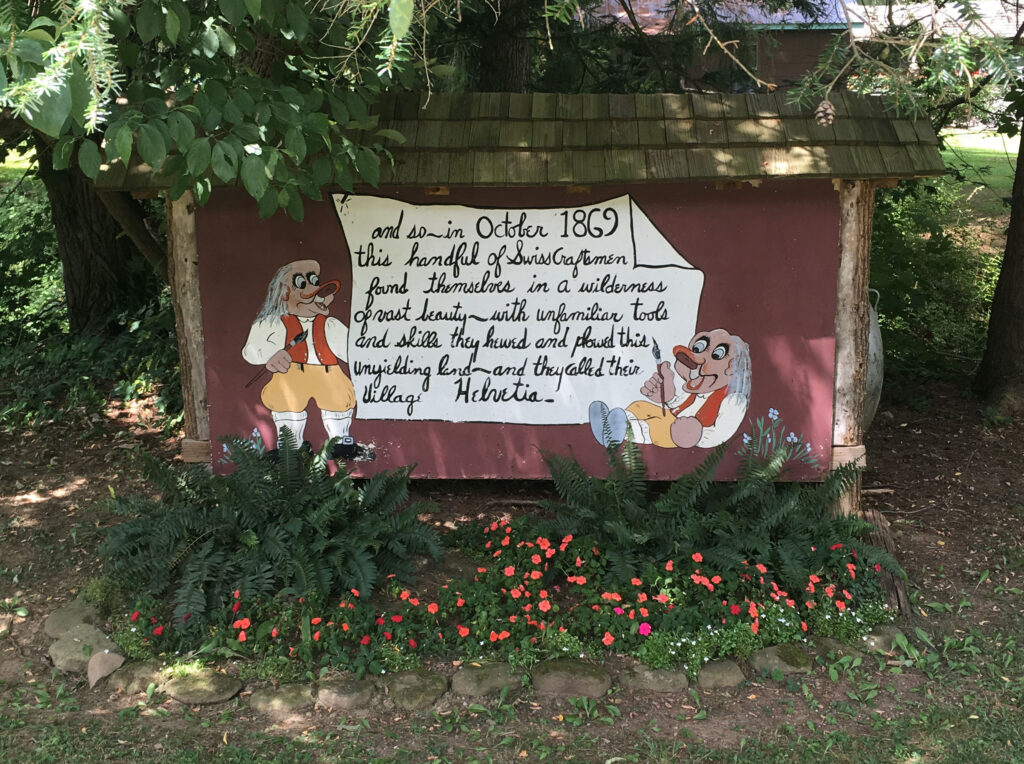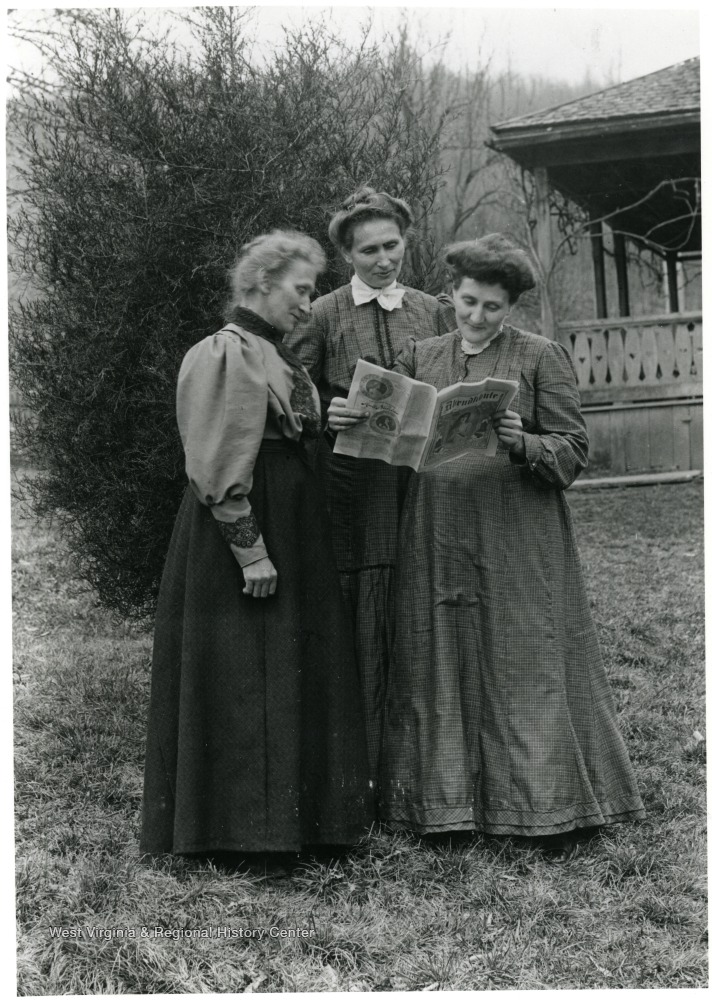 The Oppis Guet's cookbook was originally published in 1969 to commemorate the 100 year anniversary of the town's creation.  It was compiled by Helvetia native Eleanor Mailloux.  Mailloux had lived away from Helvetia and sought to bring back some of the older customs and culture when she returned.  Her writing style in the cookbook is informal and personal – and fun to read.  She notes on page 2, "No attempt has been made to classify or group the material. I have simply written it down as it has been told to me.  The task of collecting the material has been delightful as well as delicious (and fattening)."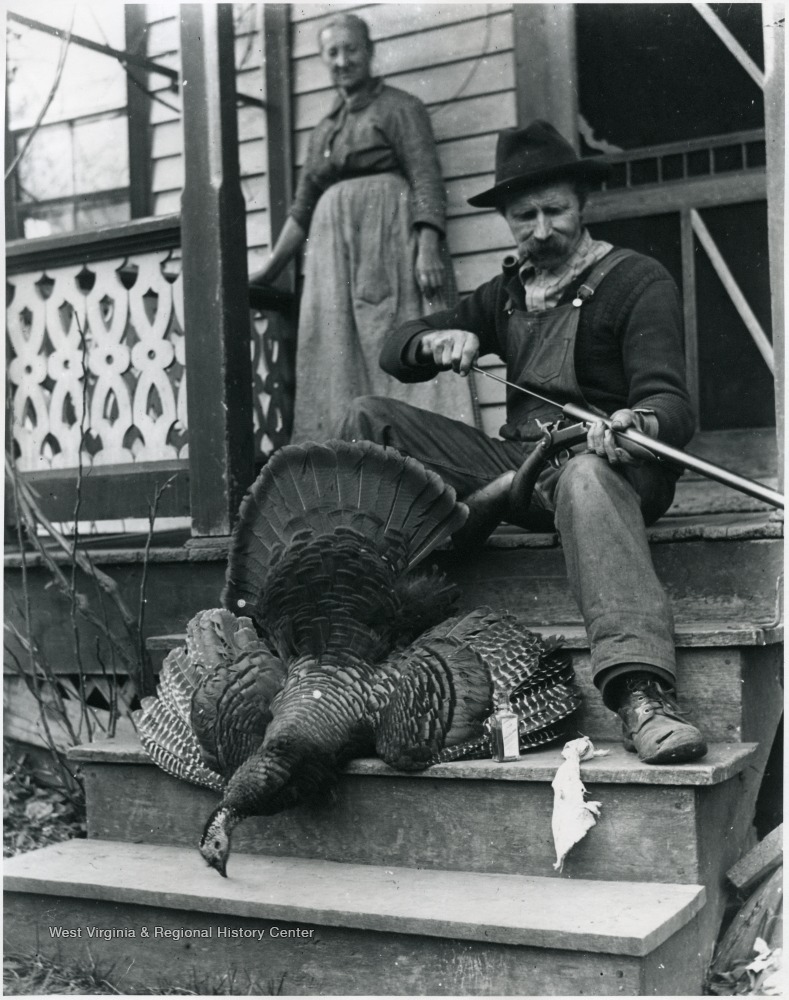 The cookbook includes "recipes, household hints, and cures" and often includes anecdotes in relation to the entries. It features recipes of Swiss and German specialties like Sauerbraten, Stollen, Springerle, Rosti, and even Swiss Cheese among many others.  Mailloux records helpful hints such as, "If you need to mend your iron pot, take a white of an egg, some iron filings and with a bit of lime make a thin paste. Apply to crack and let set overnight."  She also includes a number of cures like this one for the croup, "Equal parts of spirits of turpentine, camphor, Vicks salve, lamp oil, lard. Mix all and warm, rub on chest and throat and cover with a flannel cloth."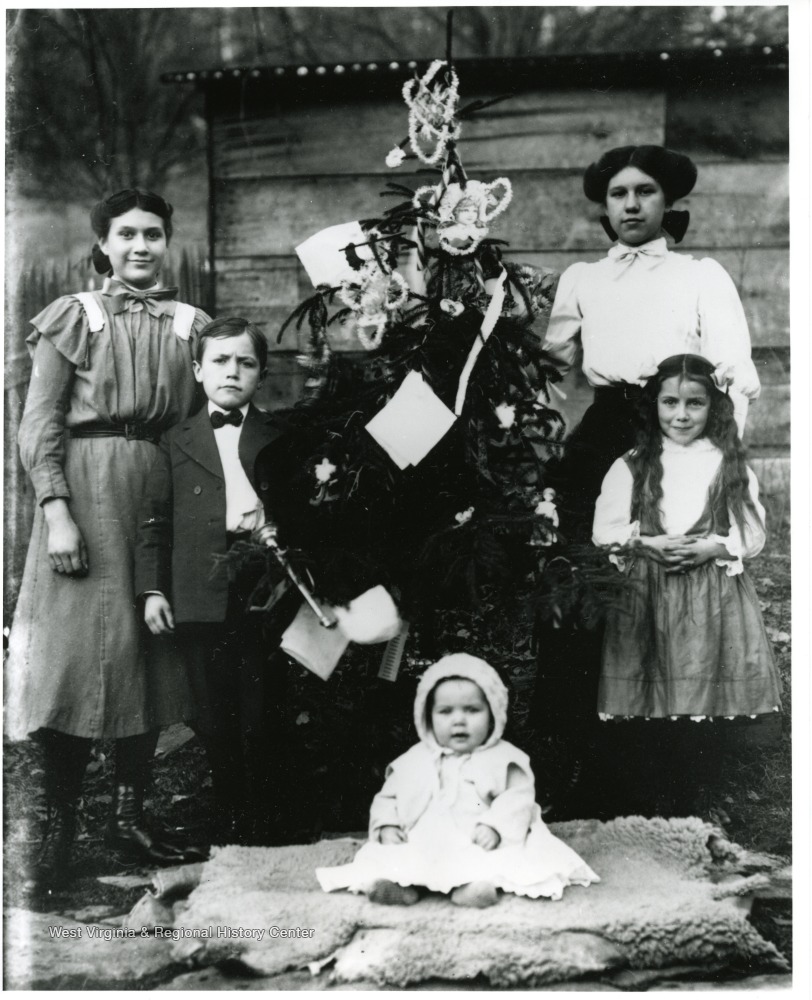 After thoroughly enjoying reading through the booklet last year, I decided to try one of the easier recipes in the collection:  Pfeffernusse.  Pfeffernusse or peppernuts are small spiced cookies flavored with pepper.  They are associated with St. Nicholas Day in Germany celebrated on December 6.  I made them around Christmastime last year and decided to make them again during the holiday season.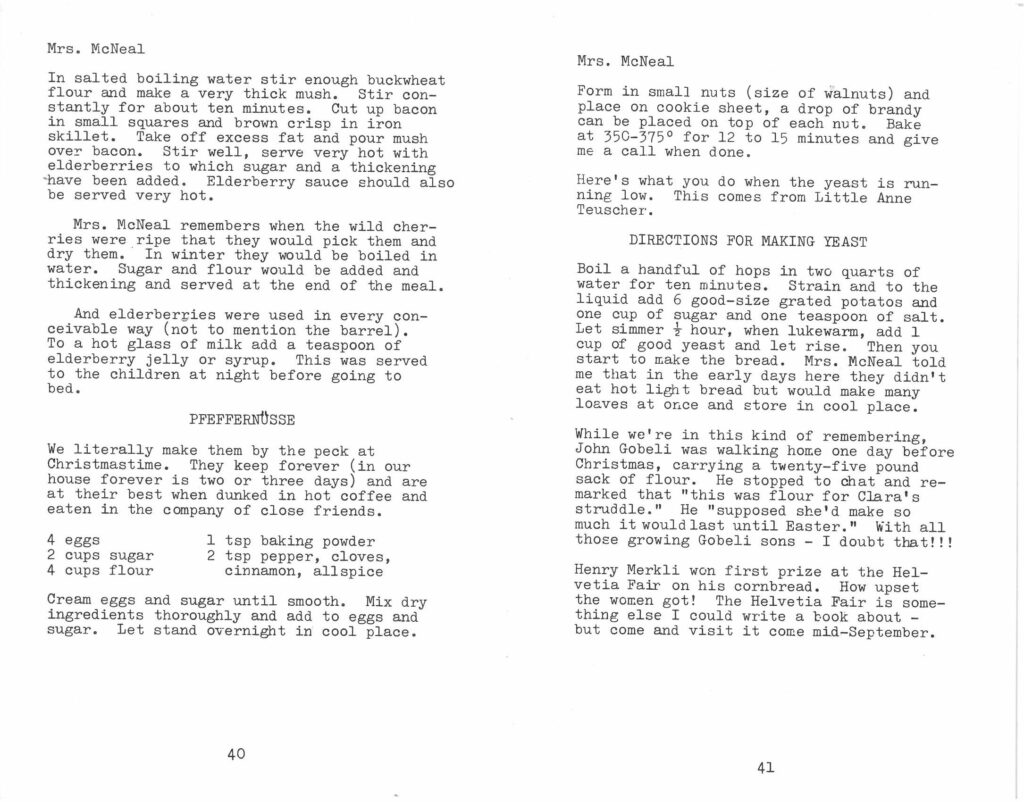 The pfeffernusse recipe was given by Mrs. McNeal. It is relatively simple and surprisingly does not include butter, a typical ingredient for cookies.   It requires the dough to be chilled overnight before being shaped into small "nuts" about the size of walnuts.  A drop of brandy can be added to each cookie before baking – I did add it.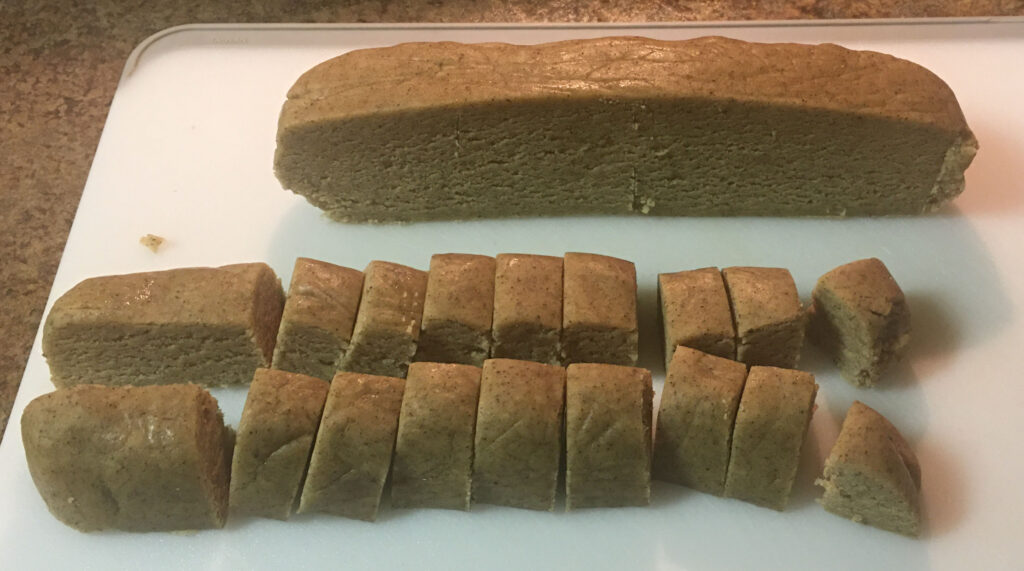 Although not included in this recipe, the pfeffernusse can be dusted with powdered sugar or dipped in a glaze after baking.  The cookies have a long shelf life and the spicy flavors actually improve as they sit.  Eleanor Mailloux says they are "made by the peck at Christmastime" and "best when dunked in hot coffee and eaten in the company of close friends."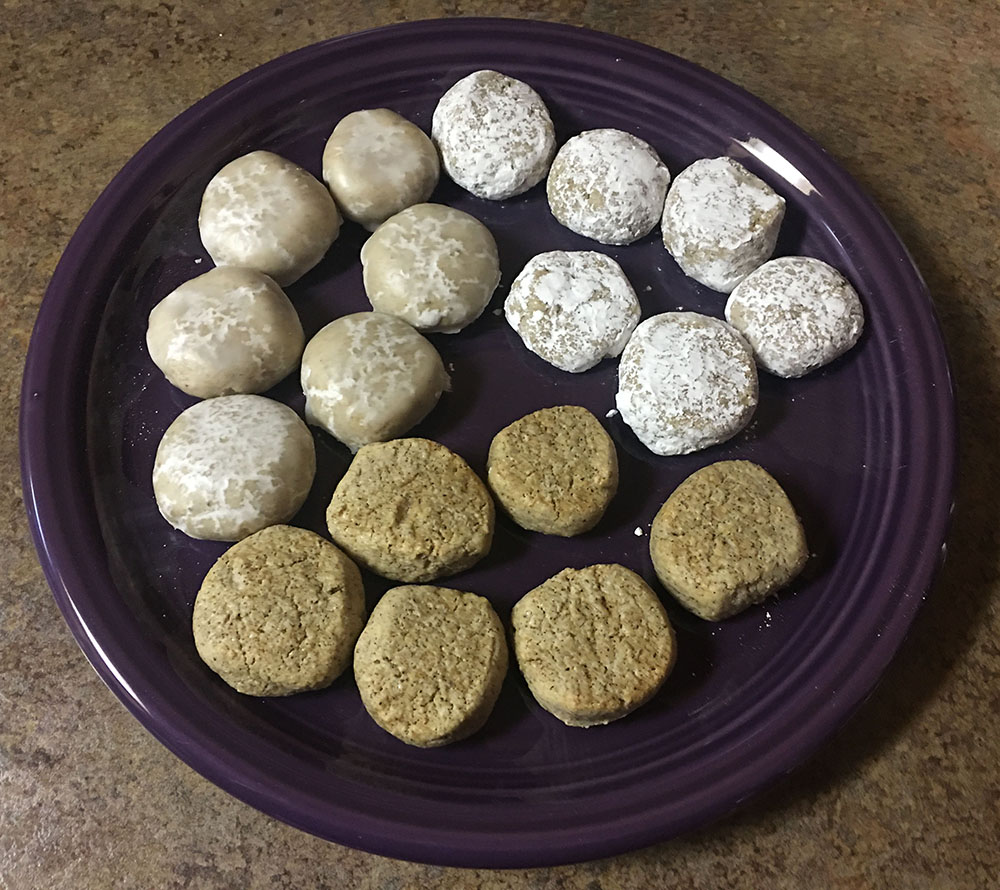 This batch of pfeffernusse was taste tested by the staff of the West Virginia & Regional History Center with our morning coffee on St. Nicolas Day which happens to be today!  Oppis Guet's Vo Helvetia is available for viewing at the West Virginia & Regional History Center. 
Blog post by Jane Metters LaBarbara, Assistant Curator, WVRHC.
After my blog post about Shoofly Pie, controversially credited as the WV state dessert on some websites, I've been on the lookout for a dessert that would better suit the title of "West Virginia state dessert."  It has proven to be a real challenge.  My most recent search turned up new ideas (summed up nicely in this WV Gazette Mail article) from hot dogs/mad dogs (tasty pastries that are actually filled with cream) to peanut butter oat cookies (which I love, knowing them from my non-WV childhood as chocolate oatmeal no bake cookies and other less pleasing names).  I kept digging through the internet, seeing apples and molasses pop up a couple of times as quintessential ingredients.  Then, I stumbled on Appalachian Apple Stack Cake.
If you've heard of it as "Tennessee Apple Stack Cake" or "Kentucky Apple Stack Cake" you may be thinking that it doesn't deserve a place on our list of quintessential WV desserts, but a lot of what I've read makes it seem more Appalachian than anything.  Its use of apples and molasses make it a good choice for WV in my book! In case you missed it, I wrote a blog post on apples as part of West Virginia heritage.
If you aren't familiar with stack cake, the general consensus is that it ought to be made of multiple layers of cake, with a spiced apple mixture between them. The layers are denser and thinner than "normal" cake layers, and there ought to be enough of them that you feel like you've got a proper stack. Some descriptions include the charming idea that people used to bring an individual layer to a wedding, join them together with the filling, then eat the resulting cake.  If you have known anyone who did this, please drop me a line in the comments!  What makes more sense to me is what I've read in other descriptions: that you prepare the cake and let it stand 24-48 hours, so the filling between the layers has adequate time to soak into the cake, making it soft, moist, and delicious.
Hunting through our cookbook collection, I found a few examples of apple stack cake recipes.  You can find a recipe for Applesauce Stack Cake on page 82 of A Cook Book from the Woman's Club of Beckley, West Virginia: A Book of Recipes by the Woman's Club of Beckley, 1963. For a slightly different twist, you could try the Mountain Molasses Stack Cake recipe on p. 142 in Cider Beans, Wild Greens, and Dandelion Jelly: Recipes from Southern Appalachia by Joan E. Aller, 2010. For a more involved version, try the Dried Apple Stack Cake recipe from p. 267-270 Appalachian Home Cooking: History, Culture, and Recipes by Mark F. Sohn, 2005. The recipe I used came from page 165-166 of Southern Appalachian Farm Cooking: A Memoir of Food and Family by Robert G. Netherland, 2016.  The author suggests that this type of cake is traditional in Southern Appalachia, and the jury is out on whether WV counts as "southern" for these purposes.  I look forward to reader feedback on how traditional this cake is in our state.
"Madelyn's Old Fashioned Stack Cake" from Southern Appalachian Farm Cooking, with a few notes added by me
Ingredients for the cake:
3/4 cup shortening
1 cup sugar
1 cup sorghum molasses [I couldn't find this at Kroger so I used regular molasses]
3 eggs
1 cup milk
4 cups all-purpose flour
1/2 teaspoon [baking] soda
2 teaspoons baking powder
1/4 teaspoon salt
Ingredients for applesauce filling: [note that you can substitute apple butter for the filling]
1 quart sweetened applesauce
1 teaspoon cinnamon
1/2 teaspoon ginger
1/2 teaspoon nutmeg
Directions for cake:
Preheat oven to 375 degrees Fahrenheit. [Start out with a large bowl that can fit all of your cake ingredients.] Cream together shortening, sugar, and molasses. Add eggs and milk. [In separate bowl] Sift flour, soda, baking powder, and salt together. Add to creamed mixture and blend well to form the batter. Grease and flour two or more 9-inch cake pans. Put 1 cup batter in each pan and bake 10 minutes or until brown in a 375 degree Fahrenheit over. [Please note, the unbaked batter will also be brown, so color isn't the best indicator of done-ness here.] Remove the cake layers from the pans and cool. Repeat until the batter is used up. The batter should be enough to make 6 to 7 thin layers. Spread spiced applesauce [see directions below] between cooled layers and stack. To allow the cake to soften and the flavors to develop, serve the following day.
Directions for applesauce filling:
Mix all ingredients together. Cook filling for 30 minutes in a saucepan over medium heat to thicken slightly. Cool and use to fill the cake. Do not spread the filling on the top layer. [If you are like me, these directions will cause a lot of hot bubbling applesauce to splatter on your stove top, so proceed with caution.]
How it all turned out for me:
This cake wins for thickest batter I have ever worked with. I should have expected this, as one of the recipes I chose not to use suggested rolling out the "dough" to the size of the cake pan and implied it would be akin to biscuit dough. My batter didn't turn out quite as thick as biscuit dough, but I took a picture of the bowl with the first cup of batter scooped out, and also the scoop of batter in the cake pan, to show you how thick it was. Please pardon the really bright overhead stove light.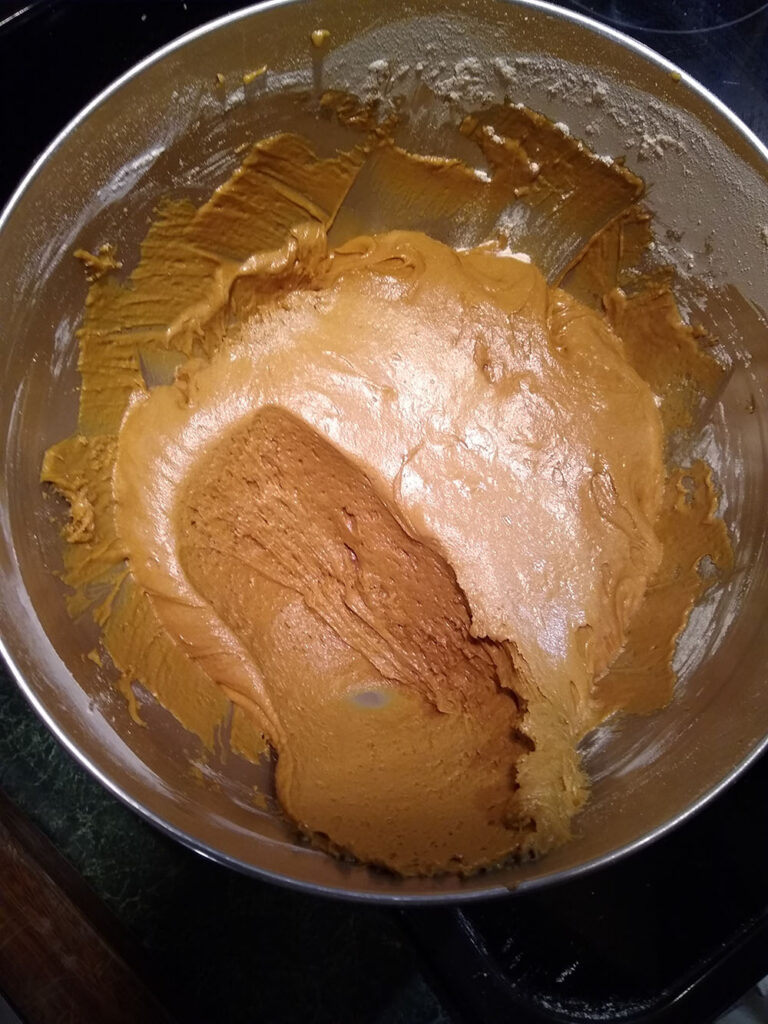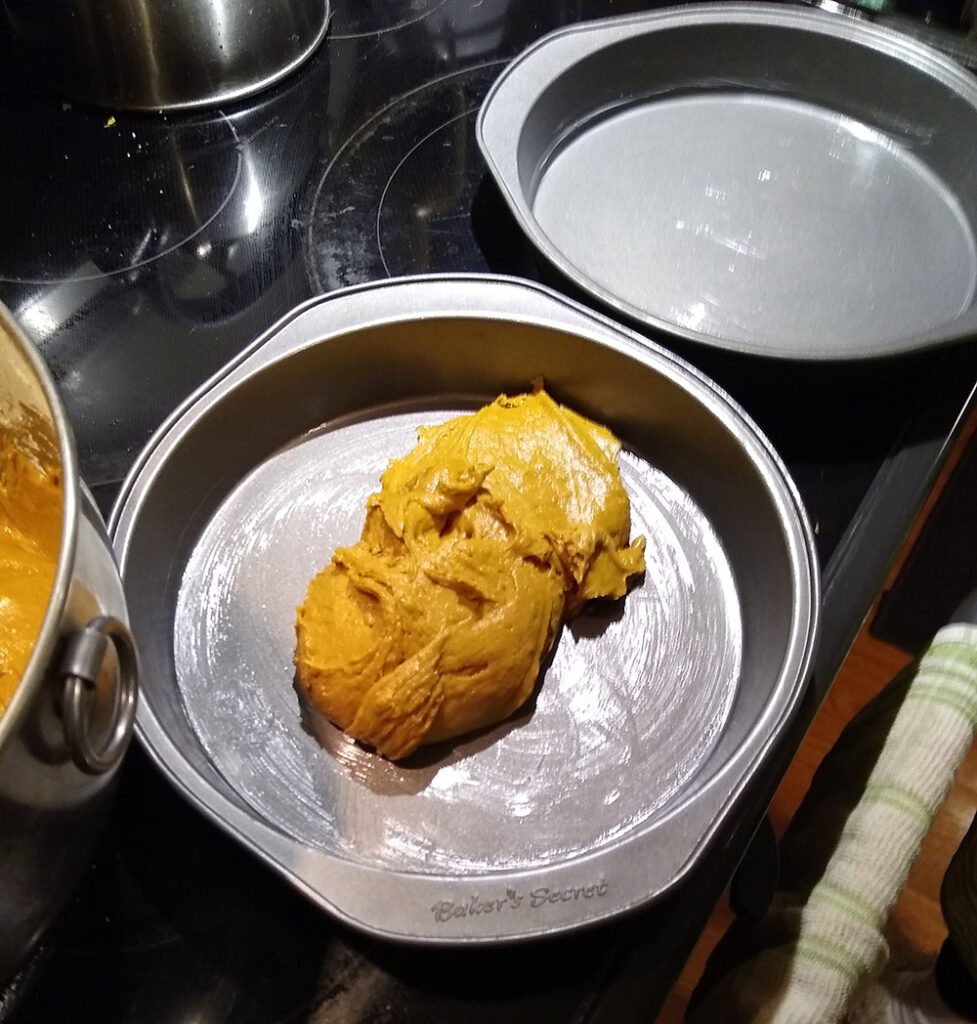 Smoothing out the batter once it was in the pan proved slightly challenging due to how thick it was, but the results were still pretty good. I ended up having ALMOST 6 cups of batter, so the final tier was a little thinner than the rest.
The one thing I would change if I made this cake again was mostly down to user error. I forgot to set a timer for the applesauce mixture, but since I put it on the stove when the first cake tins went in the oven, I figured that I would consider it done when I had baked the three sets of two tins each, as that should have been just over 30 minutes. Once the mixture heated to medium and the vigorous bubbling started, I turned it down for 15+ minutes to medium low, realized it wasn't thickening, turned it back up to medium, and left it on the stove for an extra 20 or so minutes to make up for lost time. The result seemed nicely thick, but I went from a whole quart (4 cups) of applesauce to 2 1/4 cups in the end. If I make this again, I would definitely start with additional applesauce so I could have more gooey filling between the layers. I really enjoyed the cake after a day of it resting in the fridge (see image below), but by the second day, all of the filling had thoroughly soaked into the layers and I wished I had more to serve on top.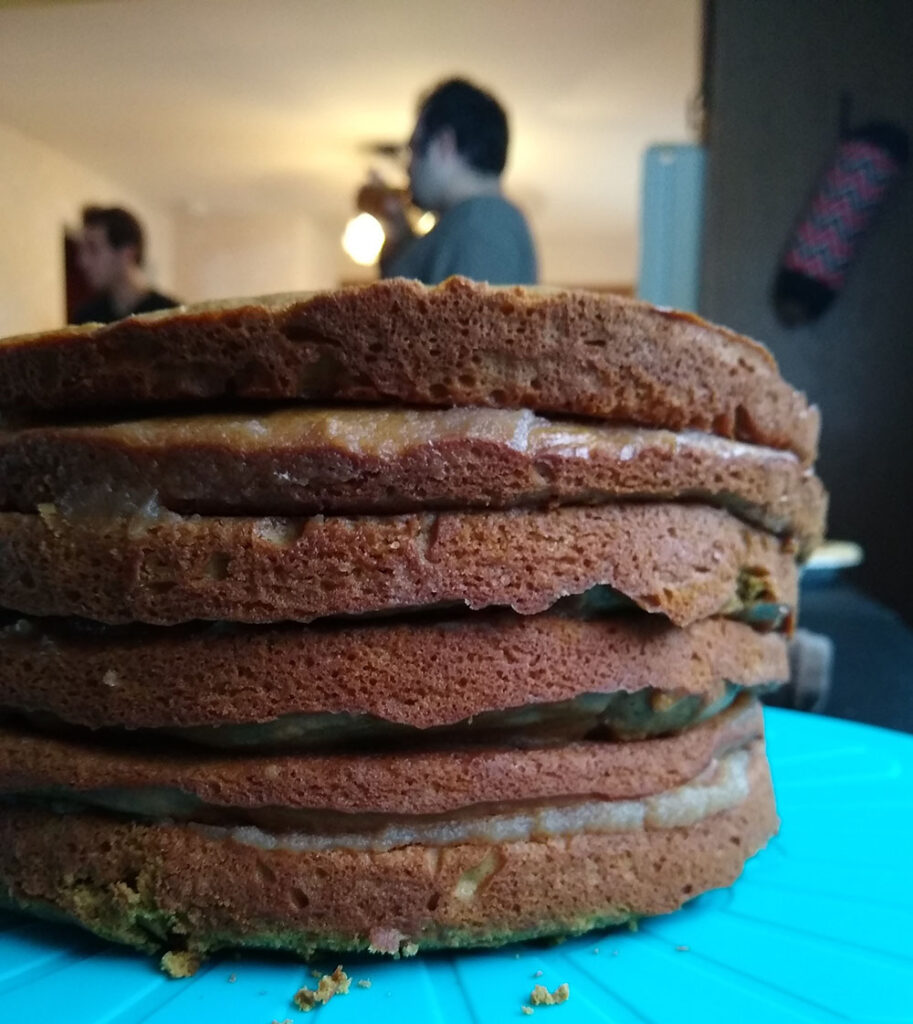 I served the cake at least 18 hours after baking at a Friendsgiving, and everyone called it good. I brought the second half of the cake to work the next day, and so far the comments are positive ("unique and delicious" was my favorite so far), so this recipe will go into my special event cake rotation. In conclusion, I think the Apple Stack Cake is a solid candidate for WV state dessert, but I am open to other suggestions!
Blog post by Stewart Plein, Assistant Curator for WV Books & Printed Resources & Rare Book Librarian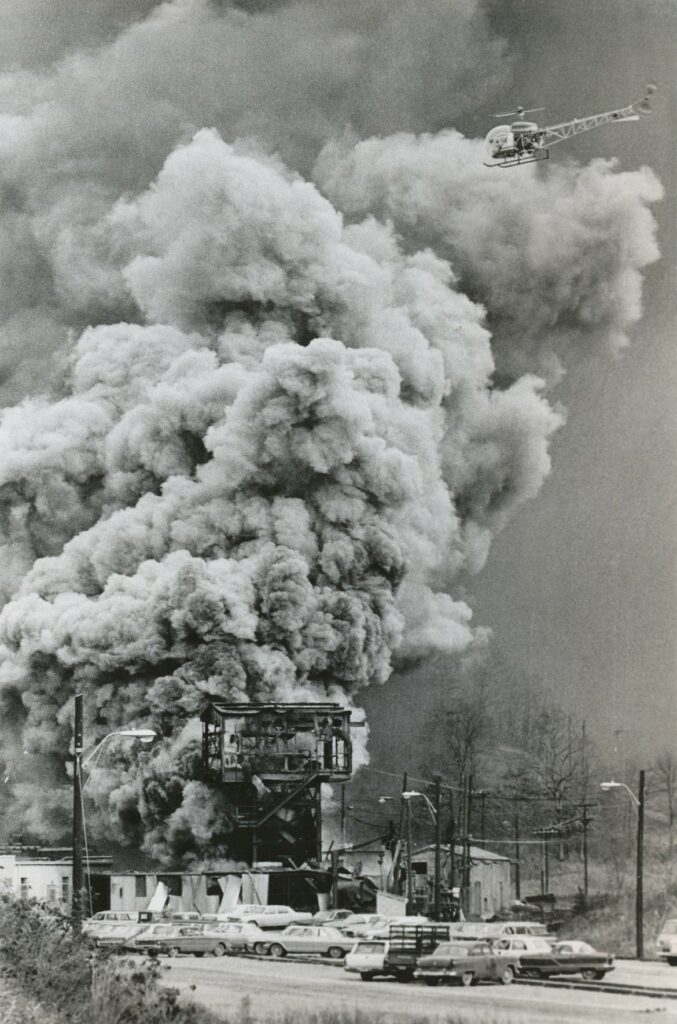 Early on the morning of November 20, 1968, while the day was still in darkness, an explosion rocked the Consolidation Coal No. 9 mine in Marion County, WV.  The Farmington Mine Disaster, as it is remembered today, took the lives of 78 miners.  Of the 99 miners at work in the mine that day, only 21 survived.  Of the 78 miners who died, 19 of the dead have never been recovered.  Their grave is the mine where they worked. 
Bill Evans, at that time the editor of the Fairmont Times, remembered the disaster in a letter he wrote to a friend on Christmas afternoon, 1968.  Evans spoke about the disaster from a reporter's prospective.  He recounts that the original reports of the explosion appeared under a Mannington dateline.  Not until later was this information corrected to read Farmington.
Evans writes at length on the sensational tactics used by the national media as they reported the explosion.  According to Evans, the first few days following the explosion families were stationed in the company store, "constantly surrounded by cameras."
"Anytime a woman broke down and cried, she was instantly cornered by a dozen or more TV people six or eight of them sticking mikes under her nose."  This kind of attention was more than some of the No. 9 men could take.  They took the initiative to protect the families from the reporters and moved them to a local church and community center where they could wait for news undisturbed. 
Evans lists some of the papers and reporters on hand covering the story including Ben A. Franklin of the New York Times, Roger Stuart from the Pittsburgh Press, as well as reporters from the Associated Press, Los Angeles Times, and the Washington Post.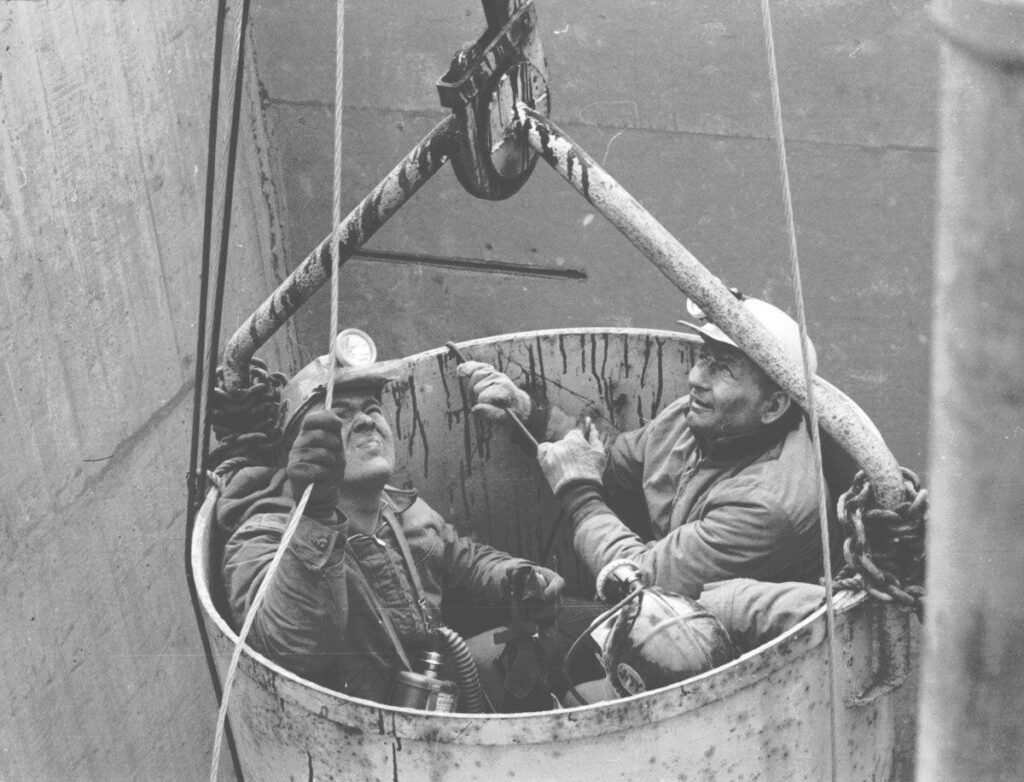 In addition to Fairmont Times editor, Bill Evans' letter, the West Virginia and Regional History Center also has books on the subject of the Farmington Mine Disaster.  Among them is Bonnie E. Stewart's book, No. 9: The 1968 Farmington Mine Disaster, published by the West Virginia University Press.  The book takes a close look at public records, interviews miners, and describes the conditions underground before and after the disaster.  Stewart also addresses the legal actions taken by the miners' widows to gain justice and establish coal mine safety legislation.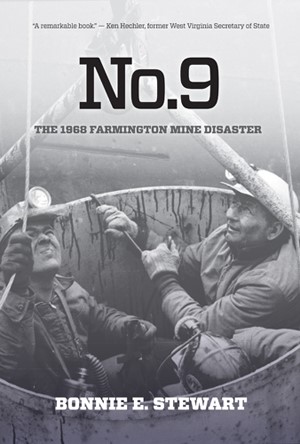 We invite you to visit the West Virginia and Regional History Center to view the Evan's letter and browse our selection of books on the Farmington Mining Disaster.  These items, from our shelves and our archives, serve as a permanent memorial to the miners who lost their lives in this explosion, 51 years ago. 
Resources: 
Read More Blog Entries